Voices from Outside: Artists Against the Prison Industrial Complex

In partnership with the Innocence Project of Florida, MoFA is proud to present a suite of prints from Voices from Outside: Artists Against the Prison Industrial Complex, a portfolio project in honor of the 10th anniversary of Critical Resistance, organized by the Justseeds Radical Arts Cooperative (2008).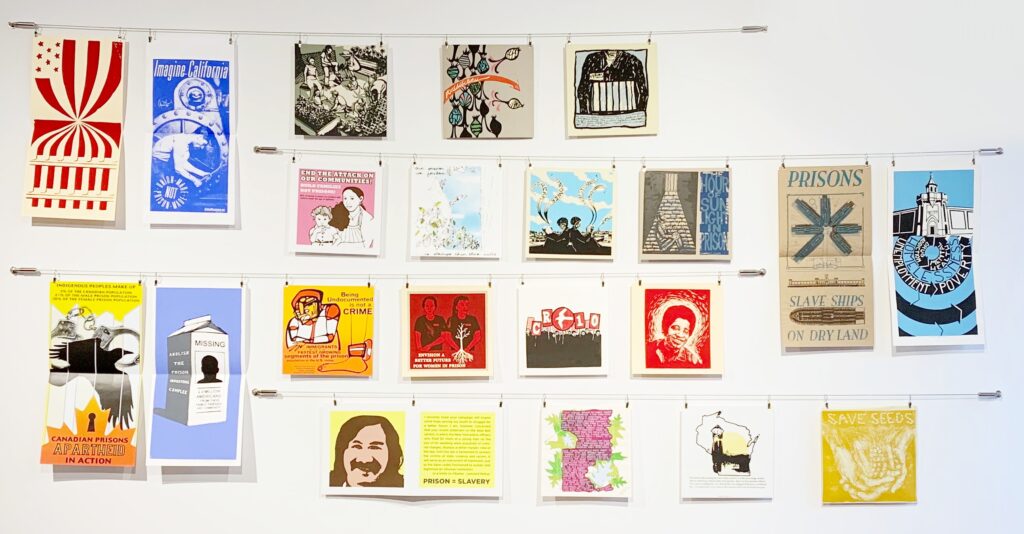 The United States has the largest prison population in the world—over two million inmates. In Florida, 50 prisons house over 175,000 men and women at an annual cost of more than $5 billion. Florida has an incarceration rate of 833 per 100,000 people (including prisons, jails, immigration detention, and juvenile justice facilities), which is among the highest rates in the United States and more than twice the average of other wealthy democratic countries.
Since the 1970s, the rate of most serious crimes has dropped or remained stagnant, yet prisons have been filled at double capacity. People of color, the poor, the illiterate, the mentally ill, youth, and women are the primary occupants. One in three Black men between the ages of twenty and twenty-nine will spend time in prison or jail. The majority of those entering prison are convicted on non-violent drug charges.
Between 1980 and 2019, the number of incarcerated women increased by more than 700%, rising from a total of 26,378 in 1980 to 222,455 in 2019. The Lowell Correctional Institution in Marion County, Florida holds over 2700 women—nearly twice its rated capacity—and is the largest women's prison in the world. This phenomenal growth is due to mandatory drug sentencing laws, conspiracy provisions, a dysfunctional parole system, inadequate legal representation, and huge profits made by the multinational corporations servicing the prisons.
During the summer of 2008, the Pittsburgh-based Justseeds Radical Arts Cooperative completed the collective portfolio Voices From Outside in association with Critical Resistance's ten-year anniversary conference in Oakland, California. "Critical Resistance Ten" was a gathering of activists, educators, and allies of prisoners who came together to organize and promote efforts to abolish the United States prison system.
Artists featured in this project included the Amor y Resistencia Collective,  Jesus Barraza, Brandon Bauer, Kevin Caplicki, Melanie Cervantes, Etta Cetera, Lydia Crumbley, Alec Dunn, Andalushia Knoll, Nicolas Lampert, Josh MacPhee, Colin Matthes, Mazatl, Claude Moller, Jesse Purcell, Favianna Rodriguez, Erik Ruin, Meredith Stern, Pete Railand, Mary Tremonte, and Bec Young.
For more information about the Innocence Project of Florida, visit: https://www.floridainnocence.org/ 
For more information about Critical Resistance, visit: http://criticalresistance.org/
For more information about the Justseeds Radical Arts Cooperative, visit: https://justseeds.org/
Selected works from the exhibition: