WJB Gallery

The great feature of the Gallery is its multivalence. In this situation it becomes a classroom, and not only a classroom but a laboratory for the creative process, and then on top of that it serves its function as an exhibition space where the students' work is on display for public engagement.


The WJB Gallery is an 1100-square-foot exhibition space shared and managed by the departments of the College of Fine Arts: Art, Art Education, Art History, Interior Architecture & Design, Dance, Theatre, and the Museum of Fine Arts.  The 24 x 46-foot glass-walled gallery stretches the length of the central five-story atrium in the Johnston Building, providing rich natural lighting and secure but vivid public exposure for exhibitions.
All exhibitions in the WJB Gallery are curated by or display works by students of the College of Fine Arts. Faculty and students develop exhibitions in consultation with a gallery committee of representatives from each department and the Museum of Fine Arts.  The scope and timeline of exhibitions varies with the needs and resources of the host department. Previous shows have included extended displays of student-designed furniture, short-term one-artist openings, semester-long curatorial projects, and one-night dance performances.
---
---
Currently on Display
---
Previously on Display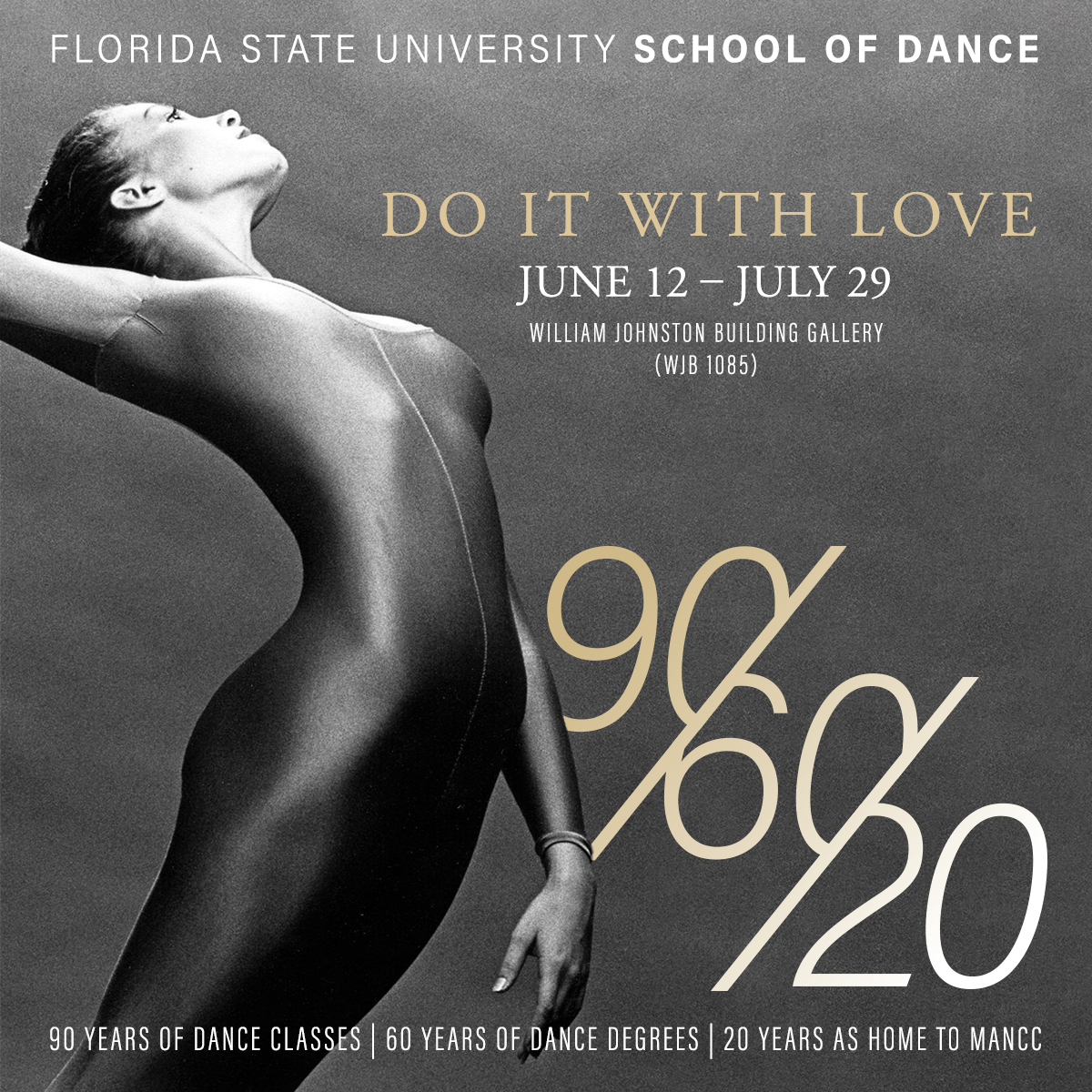 "Do It With Love!"
Do it with Love features photos, videos, costumes, and other artifacts chronicling the School of Dance's 90 years of offering dance classes, 60 years as a degree granting program, and 20 years as the home to the Maggie Allesee National Center for Choreography (MANCC).
The exhibition features a timeline that spans the entire history of SoD with notable moments and people who have made the School of Dance one of the top dance departments in the United States. Other highlights include a video detailing the history of the internationally acclaimed Dance Sciences program, and a collection of photographic and video clips that share the impact of MANCC being the first National Choreographic Center in the US to be within a University setting.


"PARACOSM"
An exhibit of narrative painting students at William Johnston Building Gallery. The opening reception is from 4 to 6pm Thursday April 27th; refreshments will be served.
Those exhibiting include Nicolina Morra, Anna Speer, Will Pekins, Catherine Cintron, Sarah Kate Evans, Julia Hayes, Zephaniah, Inez Mateosky, Gabbie Shakir, Kayla Simpson, Michelina Dolan, Inez Mateosky, Bella Gallese, and Channing Salazar.
This exhibit features a detailed imaginary world created inside one's mind. This fantasy world may involve humans, animals, and things that exist in reality; it may also contain entirely imaginary, alien, and otherworldly entities. On exhibit April 21 to May 1st.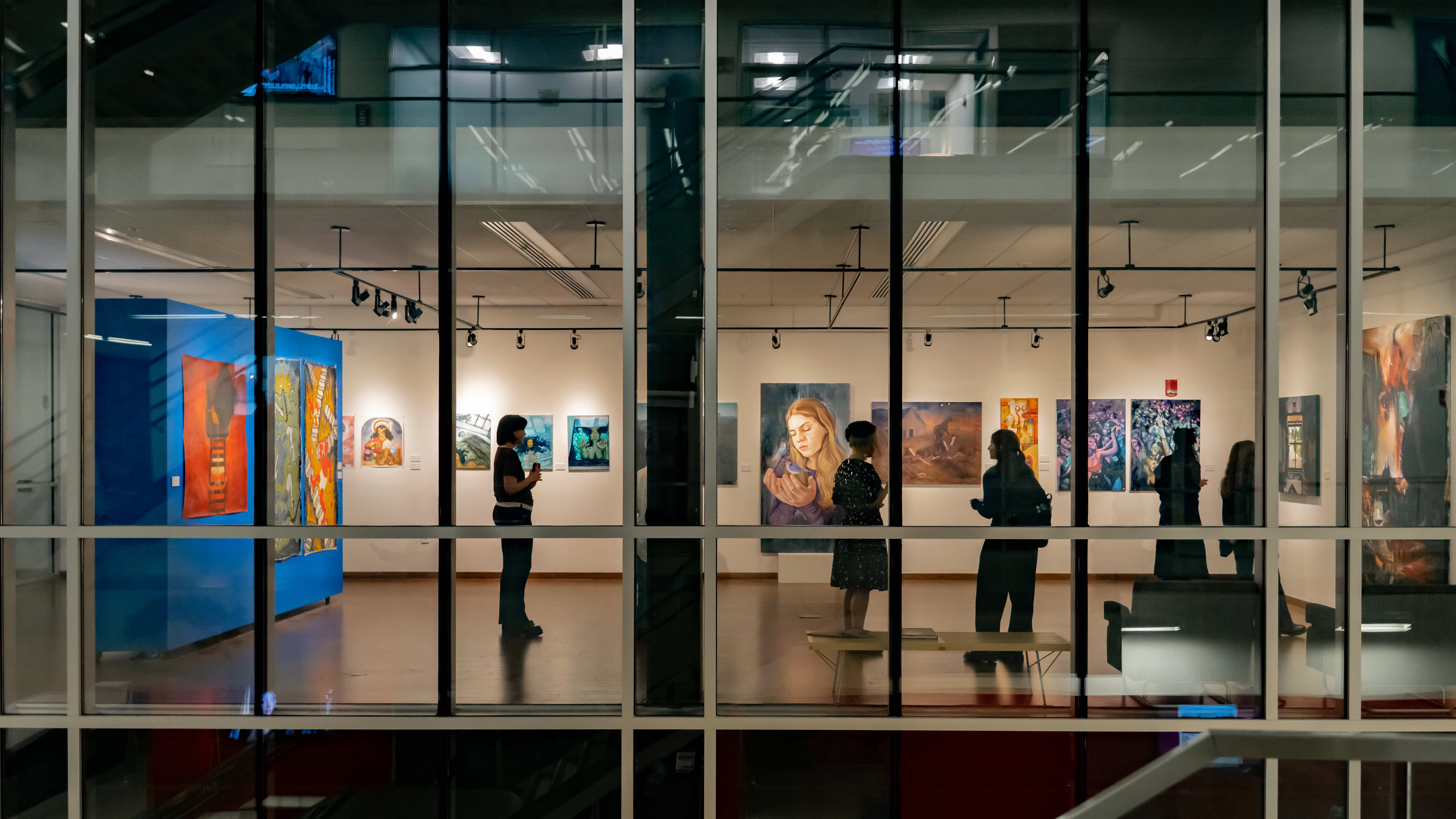 "All Over The Map"
From March 3 through April 4, the Museum Object Spring 2023 seminar is pleased to host a selection of ceramic artist Carolyn Ford's tondi (ceramic sgraffiti disks). Ford's sgraffito tondi cover the subjects of ceramic art, Tennessee culture, and the cultures of her travel destinations.
This exhibition serves to honor the expression of her emotional travel from and return to home through the medium of ceramics. Throughout the duration of the exhibition, students will continue to research Ford's tondi and offer additional programming to campus and Tallahassee communities, all which will be documented on a website dedicated to their experience.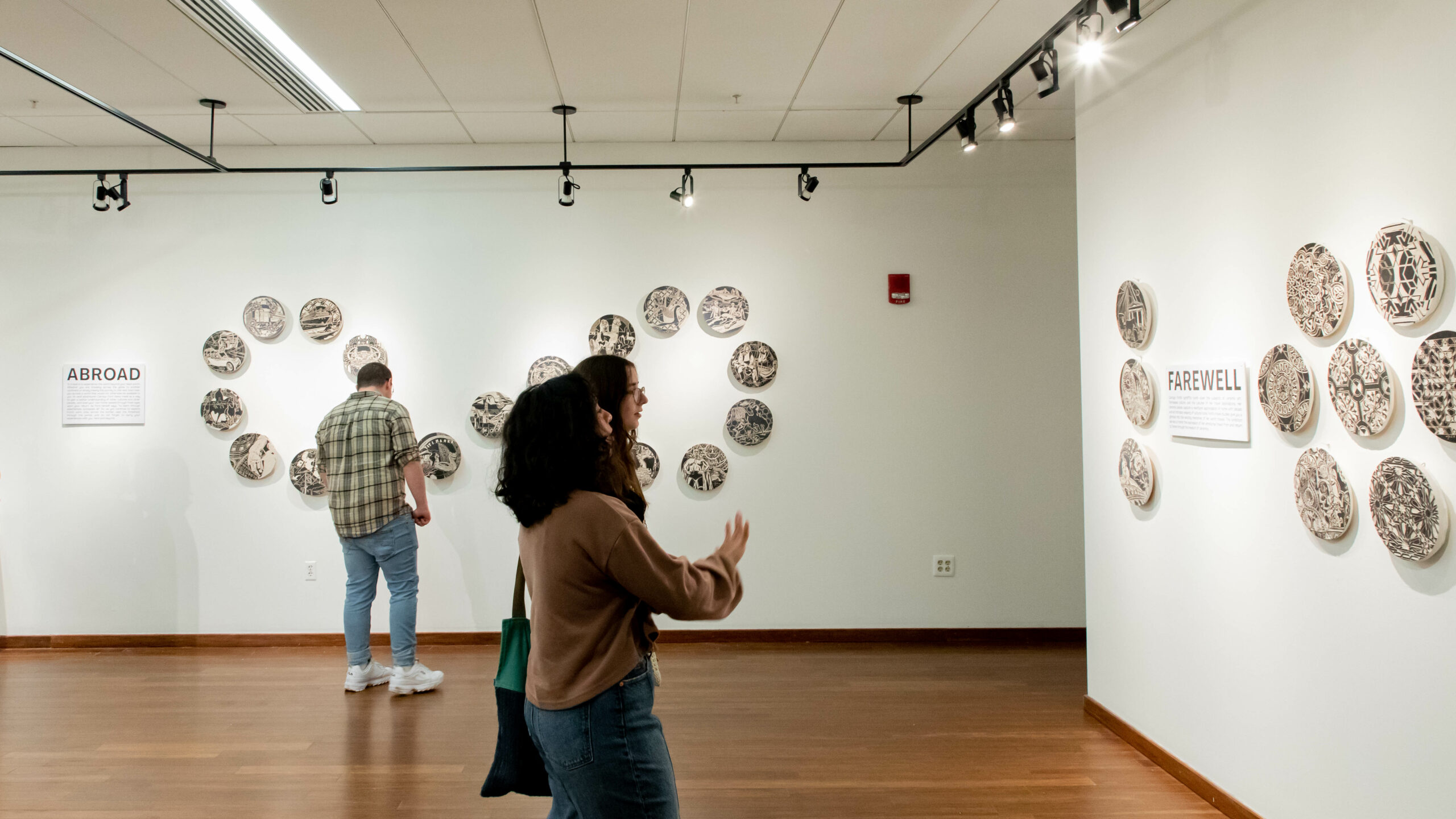 ---
A Walk Through the Gallery

A look at the WJB Gallery during the 2017 exhibition Kul'ttovary – Bringing Culture
into the Soviet Home (Yelena McLane and students, Interior Architecture & Design).
---
Student Resources
College of Fine Arts faculty and TAs may submit exhibition proposals for review by the gallery committee. We encourage you to check the upcoming timelime and contact your department representative on the committee, in planning your exhibition. Once you are ready to formally propose an exhibition, please submit through our online Proposal Form.
The Gallery committee approves proposals, arranges the schedule, allocates a small budget for supplemental equipment or materials, and supervises a staff of interns who may assist with installation, marketing, and some supervision/guided tours. Requests for staff assistance with installation should be directed to Meredith Lynn, Director of Galleries. In designing your installation, please refer to the Floorplan and Exhibition Guidelines.
WJB Gallery Committee Members
Meredith Lynn (MoFA)
Grace Ali (Art)
Tenley Bick (Art History)
Irvin Gonzalez (Dance)
Kellen Hoxworth (Theatre)
Yelena McLane (Interior Architecture & Design)
Ann Rowson Love (Art Education)