Trust & Transformation at the Circus: 75 Years of Flying High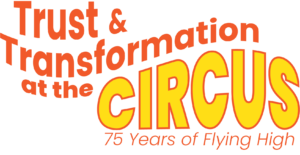 Join us for a special exhibition celebrating the 75th anniversary of FSU's Flying High Circus. Marvel at the feats of wonder and expand your understanding of the circus as a space in which athleticism and ambition, daring and dedication, and precarity and persistence unite to empower performers and inspire awe in their audiences.
Since its founding in 1947, FSU's Flying High Circus has enjoyed worldwide recognition for its brilliance and creativity. Through countless Home Shows and Halloween performances, summers at Callaway Gardens, over fifteen appearances on national television, and sell-out tours across Europe and the Caribbean, Flying High athletes have earned their reputations as being among the hardest working students at Florida State.  It takes a lot to be a circus performer, but students and alumni repeatedly reflect on the importance of trust – trusting oneself, trusting one's partner, trusting one's apparatus – to achieving the magic that animates each act: a transformation from the everyday and ordinary into the amazing and extraordinary.
"Trust & Transformation" features an array of photography and video installations, interactive displays, and historic and contemporary circus costumes together with original drawings by the celebrated costume designer Miles White, vintage circus posters, and works of art on loan from the Howard Tibbals Circus Collection and the Ringling Circus Museum.  This exhibition is made possible through the generous support of the staff, students, and alumni of the FSU Flying High Circus, The Ringling, Howard and Janice Tibbals, the Council on Culture & Arts, the Florida Division of Art & Culture, and FSU's Council on Research & Creativity.
"Trust & Transformation" will run from January 13 through March 19, 2022.