"Too Bleak for Print": The Honesty of Love and Longing: Bruce Davidson
Each week, dozens of visitors enter MoFA's doors to explore the carefully curated exhibits on display for the public. Every exhibit offers its own world for visitors to walk through, absorb, and interpret. Visitors are prompted to extract from the exhibit's meaning to incorporate into their umwelt or their unique perception of the world around them. This experience can take many forms, and in the case of FSU sophomore Rory Donohue, it means writing about the world as created by MoFA's recent exhibition Bruce Davidson: Love and Longing. Inspired by the many hues, expressions, and messages found in Davidson's award-winning photography, Donohue invites readers into the exhibit as he experiences it. Read below Donohue's piece, "Too Bleak for Print": The Honesty of Love and Longing: Bruce Davidson, and contemplate how you might interact with an exhibit the next time you visit a museum. Following the article, read more about Donohue and his reflections on writing the piece. Have a submission about MoFA that you'd like us to share? Email Annie Booth at albooth@fsu.edu, and you might be featured next! -Grace Robbins, MoFA Spring 2022 Intern
Arthur Miller and Marilyn Monroe swirling wine and giggling. Henry Fonda plastered to a wicker chair, critiquing one of his recent paintings. Paul Newman and Joanne Woodward posturing gayly on their Connecticut lawn. These images, captured by legendary photographer Bruce Davidson, are an ethos of the American psyche, but they aren't what he set out to capture. "[I]t got a little bit annoying because there was hair and make-up, and it wasn't free anymore," Davidson says, "there was more of a commercial feeling" to the photography. In the recent exhibit Love and Longing: Bruce Davidson, the Florida State University Museum of Fine Arts prophesies the affinity of Davidson's lens, capturing what falls between the cracks of history.
Since discovering the darkroom at the age of ten, Davidson ushered the worlds of street gangs and circus dwarfs into the public's eye. Davidson captures the yearning of his subjects, who are constantly searching away from the frame, holding those they love tightly in dingy buses or stairways. Through his lens, a young couple on a graffiti-tattered Coney Island train stand as a fair match to the romance of Romeo and Juliet. There is an inherent intimacy to the photographs, occurring during moments of rest, when humanity lies naked.
While his work is primarily in black and white, Davidson's utilization of color is just as evocative, if not more. The forms of humanity playing among the fluorescent lights and graffiti of the night train in New York give a sexy, saturated allure. This fluid, balmy environment allows for honesty as well as chaos. Beach balls and saccharine satins adorn the subjects, creating the supernatural in a tin can. The images evoke the longing of lost people, looking out onto the city or the promising lights of Coney Island, escaping into flashing scenery. Davidson's unending stoicism and empathy brings us beyond the frame and into a realm of romantic poetry.
Davidson's photographs from Central Park shine as a culmination of his philosophy and work. Photos of queer couples embracing, solemn stares, and buoyant kids clambering about the rocks are all touching moments. Davidson captures the ephemeral using a Russian panoramic camera, distorting spaces, and widening the margins. These calm moments captured agape reflect the situations they portray: people clutching the moments while they can, despite the harsh sobriety of the world around them. By photographing in this manner, Davidson not only captures the security of relationships but the romantic, fleeting nature of Central Park, New York City, and life itself. As Davidson has been quoted saying, "I think you could say all my work is a landscape, a landscape of understanding."
Davidson captures without judgment. When working with subjects, he mingles in these spaces for weeks, understanding the communities he's involved in, and instilling their anxieties and passions into his own. While discussing his street gang series, Davidson said, "After a while, I became them. I'm not violent, but I could feel their depression, their abandonment, that there's nothing for them there." Loving is inherent to abandonment, as is the grief that comes with it. These photographs help us see the world as something beautiful and shared, despite the dejections that surround us and fill us.
Rory Donohue is a sophomore at Florida State University studying English Literature, Population Studies, and Arabic. He is currently a Disk Jockey for WVFS and staff writer at The Stargazer, the Student Life Cinema's publication. He is currently co-editing a magazine, titled Roro.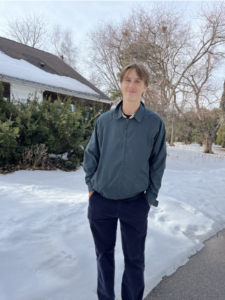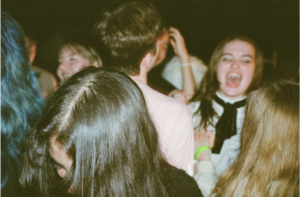 What first encouraged you to write a piece about the exhibit? Why were you drawn to Bruce Davidson's work specifically?
I hadn't known about Bruce Davidson until this exhibition, and his work blew me away. His work is impossibly perfect, it almost feels wrong to look at one of his photographs. It floored me that our university could house such amazing productions, which made me really proud. I wanted to share how amazing this exhibit was with everyone I could, and learn more about Bruce, so I wrote about it.
Can you explain your writing process for the article?
When I set out writing the piece, I visited the exhibit again. It was probably my fourth time there since it opened. I walked around some, thinking about the photos and the context. After that, I sat down in those great black chairs that are in the exhibit, read some interviews and biographies, and began to write.
Regarding your photo submission to the Bruce Davidson: Love and Longing Photo Contest, we appreciated the ambiguity of your photo's location. What inspired you to take that photo?
I was really just trying to get a photo of my girlfriend when we were at a house show, but she was dancing so fast, it was hard to capture her. When I developed the photos a couple of months later, everything sort of fell into place, the movement really grafted onto the film. It captures the movement and, really, I think noises that you find, and how those keep the movement going in a cycle.
How do you envision the role that MoFA exhibitions and museums in general can play in students' lives on and off campus?
Museum exhibits are the closest thing we have to artistic cultural valuation. When a community is exposed to new art, as we were able to with this exhibit, the community starts to express itself based on that communal understanding of values. The digital age has a sticker promise of infinite access, but in that breadth, everything gets lost. It's through these local, tangible exhibits that students can interact with art in a meaningful way.
Love and Longing: Bruce Davidson ran from January 13th-March 19th. All quotes come from: Campbell, Owen. "Exploring, Entering a World and Earning Your Dues – An Interview with Bruce Davidson." ASX, April 15, 2015. https://americansuburbx.com
/2015/04/bruce-davidson-asx-interview.html.