Social Distance Spotlight: A Conversation with Linda Hall
Interview by Alexa Senan
Linda Hall is a Tallahassee-based artist that specializes in soft sculptures typically made of fabrics and paintings. Her work focuses on what we see as ordinary and our own fantasies, bringing them together within the animal and human world.
Anxiety Masks is a body of work she has been working on throughout the pandemic. These soft sculptures cover the face, head, and sometimes the body; by covering these features, the wearer gains anonymity. Hall's purpose for creating this body of work was to highlight the fear cultivated during this time with the pandemic and heightened violence against minority groups while also giving hope for a better future.
Social Distance is a collaboration between Linda Hall, who created these Anxiety Masks, and Becki Rutta, who documented them. Personally, when I first walked through the MoFA's Social Distance exhibition, I was drawn to Linda's work which incorporates very brightly colored fabrics such as quilts, felt, and flowers. I am always drawn to soft fabric sculptures because of the tender feeling they always seem to provide. Hall's were especially interesting to me because although some were very bright and tender, she changed how I viewed soft fabric sculptures by creating some that instilled a feeling of emptiness and fear within me. As an intern here at FSU's Museum of Arts, I had the opportunity to interview Hall and discuss any questions I had for her about her work and her artistic process.
Alexa Senan: Is the body of work still ongoing? If so, do you intend on continuing until the end of the pandemic?
Linda Hall: Yes, the body of work is continuing. I am continuing to make masks at the feverish rate as before, and Becki and I are still going out in the local areas and taking photographs.
Alexa: Is there any specific event that sparked the inspiration for one of the pieces?
Linda: Yes, The George Floyd murder and ensuing protests were an inspiration for the inverted KKK masks. It seems our culture thinks it is okay to continue the history of lynching of Black men. This sort of antipathy has become institutionalized. These masks were my way of expressing solidarity with those protesting. The racial tension is another layer of anxiety from the past year and a half.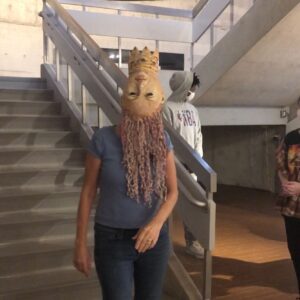 Alexa: When reading over your artist statement for the exhibition, you stated that your Anxiety Masks are comprised of found textiles. Where were these textiles found? What other materials do you incorporate into your masks?
Linda: I go to the Good Sense thrift store and other thrift stores around town for materials. I shop for color and texture. I also love using materials that have their own history, such as handmade quilts and other textiles. I feel as though I am giving a nod to past generations of women's work and giving them a new meaning.
Alexa: What about Becki Rutta's work made you decide to collaborate with her for this exhibition?
Linda: Becki and I work great together. She will suggest masks and locations most of the time. She is also open to my ideas. We have worked together on other projects and we had a notion that our collaboration would be fertile ground for something unusual to happen. We are open to conjuring inspiration in similar ways and to creating works that strive to be beautiful and mysterious…. Works that invite questions rather than give clear answers.
Alexa: I read about your hope to be able to curate an Anxiety Masks fashion show in the future in Tallahassee. Is this of interest to you? How would you go about such an event?
Linda: I think the idea of a fashion show has changed a bit. I feel like these masks belong in the public arena, but I am more interested in parades, rituals, and short plays. I think any of these will have a runway aspect. I have a procession in Atlanta at the Craft Council Fair later this month. Becki and I are also planning some sort of artful procession for the closing of " Social Distance" on October 30th.*
*The exhibition has been extended through December 11th, but the performance will take place on October 30th from 2:00-4:00 pm.
Linda Hall holds an MFA from the University of North Carolina and has taught studio art at Florida State University, where she specializes in courses on art and ecology.  Her mixed-media two- and three-dimensional works have been shown in many regional and national venues, and over the years she has participated in numerous public art projects as well.  Her family is rooted in the South, and she currently makes her home in Tallahassee, Florida, where she maintains a studio in the historic Smoky Hollow quarter of town.  In her spare time she serves as a volunteer boat tour guide at the lovely Wakulla Springs State Park. Click here to learn more about Linda Hall.
Alexa Senan is a MoFA and a senior at Florida State University, majoring in Studio Art with a focus in photography and a minor in Museum Studies. She has volunteered with different local organizations focusing on installation and assisting in curatorial work. She plans to further her studies after graduation by gaining an MFA in Photography and hopes to work in more galleries and museums in the future.