Public Art Appreciation
Written by Carly Rudd
Art is so expansive that we sometimes forget just how meaningful it can be to local communities. I have chosen three projects that remind me that art can be used to express oneself through creative and fun ideas AND draw attention to important work being completed locally.
The Pothole Gardener is a collective of artists who work together to create eye-catching installations that draw attention to a local issue, potholes. Each miniature installation is different depending on the potholes' location, but are connected through style and the inclusion of live plants. For example, one piece that stuck out to me was a miniature version of a tennis court installed next to an actual tennis court. The Pothole Gardener decided to mimic what surrounded the pothole by recreating the court in miniature. They had some fun with it by filming the process of making the small court and pretending to mow its' lawn, watering the court, and recording live animals, such as squirrels, interacting with it. The Pothole Gardener creates out-of-the-box pieces, and their artwork helps the community draw attention to road quality, all with a sense of humor. I like this project because it is interesting, fun, and meaningful all in one!

The Knight Creative Communities Institute (KCCI) brings together a diverse group of catalysts from the Tallahassee Community to organize local beautification and public art projects to increase awareness of public and private businesses and enhance Tallahassee's economic mobility. Artists like Nipa Eason, a traditional and digital art creator, have the opportunity to participate in KCCI projects like "Art of the Box," in which artists applied to transform traffic control boxes into works of public art. To bring "Art of the Box" to life, KCCI teamed up with the City of Tallahassee to bring beauty and color art to our everyday life. Eason's piece caught my eye with its bright colors and luminous flowers. Not only is it peaceful to the eye, but it is also soothing to the mind. Her vibrant artwork on an ordinary traffic control box reminds people that art is all around us and that it can create a sense of place and brighten your mood. Awe-inspiring projects like these both refresh and improve our community.

Tallahassee's Council on Culture & Arts (COCA) is dedicated to supporting projects that benefit the community and inspire creativity. One of their more recent projects utilizes technology, poetry, and sound to create a unique experience in Cascades Park. Voice of Trees – Tallahassee uses an app that connects different locations at the park to different poetry readings from various authors. COCA partnered up with 100 Thousand Poets for Change and the City of Tallahassee Parks, Recreation & Neighborhood Affairs Department to bring Giovanna Iorio's concept to Tallahassee. Each poem is different and exists as a way for people in the community to take a breather, relax, and appreciate nature. One poem that spoke to me was Virgil Suárez's Cascades Park. The poem went into detail about the feeling one gets when exploring Cascades. When I read it, I envisioned the park in all its beauty without leaving my home, reminding me that I am a part of the park, a part of the community, and more broadly, our beautiful Earth. Projects like these can move mountains inside a person, and that is precisely what Suárez's poem did to me. Voice of Trees – Tallahassee combines our natural resources with the community and reminds us just how precious they are. Click here to download the free Echoes app featuring the Voice of Trees – Tallahassee sound walk.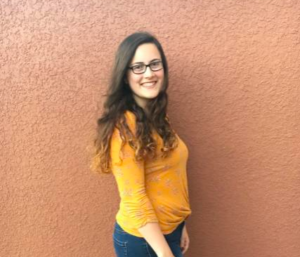 Carly Rudd is an interdisciplinary social science major with a concentration in history. She is set to graduate in the fall of 2020 from Florida State University with a bachelor's degree in social science. This semester, Carly was a remote intern at MoFA, gaining knowledge about the art and museum world. After graduating, Carly plans on continuing her work in the field by pursuing a museum position.