MoFA's Council of Educators: Waging Peace!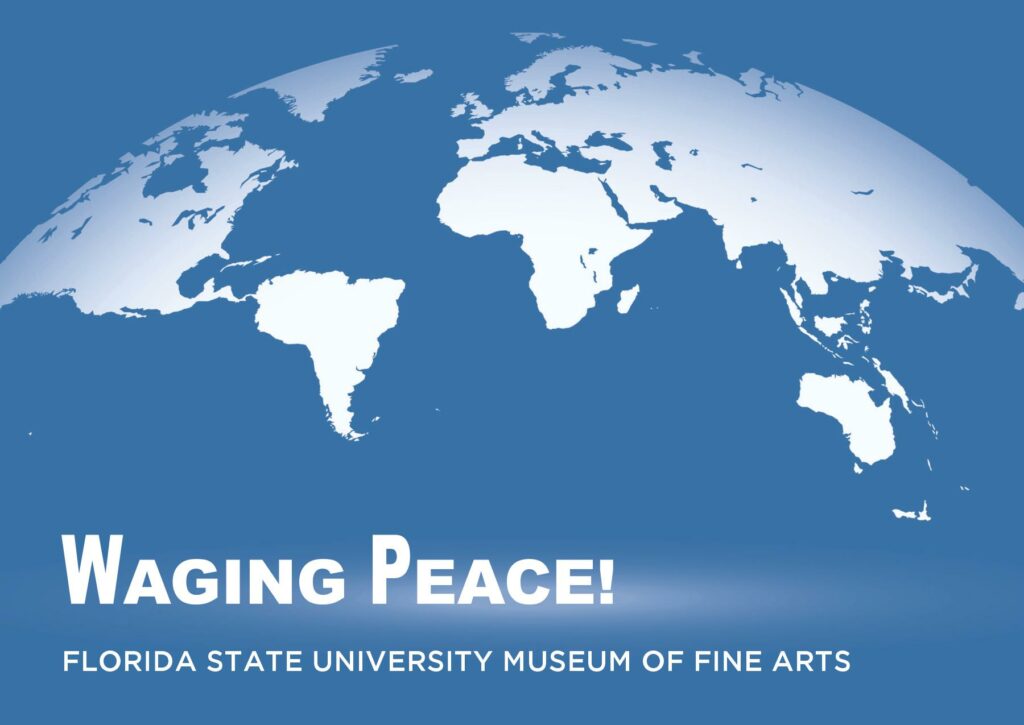 May 14- July 7, 2018
Reception May 17, 2018, 6:00pm-8:00pm
---
Education Curator Viki D. Thompson Wylder, PhD, notes that Waging Peace is the sixth exhibition undertaken with educators in the community and teachers in the Leon County School System as co-curators. The title, including the transitive verb "waging," integrates the notion that to work for peace is an active enterprise:
Peace must be waged. It does not mean merely the absence of violence or war. Rather, peace entails the constant challenge or struggle to construct ethical balance among individuals and groups in society. It means preserving and promoting the natural ecology of the earth with the aim of a fair sharing of its sustained resources.
Dr. Wylder's introduction to the catalogue also states that when the title was determined, there was an effort to discover who else might have used the phrase "waging peace," and among other usages, it was found to be part of the motto for former President Jimmy Carter's humanitarian center: "Waging Peace. Fighting Disease. Building Hope."
The co-curatorial committee selected the exhibition from artists who had submitted images from across the United States, and at every juncture kept the spirit of Picasso's Guernica in mind. Ultimately, the committee selected 49 works by 40 artists and submissions had to "convey one or more of the following: 1) a response to, solution towards, or consequences of peace or its absence, 2) active progress towards or analysis of the nature and possibility of peace, 3) overcoming conflict, and 4) promoting, striving towards, seeking, investigating the journey of, and achieving peace. Works could address multiple levels of the possibilities mentioned through personal, spiritual, regional, cultural, geographical, or worldwide concerns."
To prepare for the exhibition that opens May 14 and closes July 7, Dr. Wylder and co-curators extended projects through partnerships with community organizations, in particular: the Council on Culture and Arts (CoCA) that hosted K-12 student work at the Tallahassee City Hall; the Holocaust Education Resource Council (HERC); FSU Schools that co-sponsored a teacher workshop with New York artist Linda Stein; The Plant on Gaines Street that developed and implemented a series of Waging Peace open community art events/workshops; and the Anderson-Brickler Gallery & C.A.P. Collaborative Art Projects that interacted with under-served schools and students in the Tallahassee area in alignment with the moral and global responsibility "to produce and sustain an equitable societal treatment of humanity and the earth."