Museum of Fine Arts Hosts First "Make it at MoFA"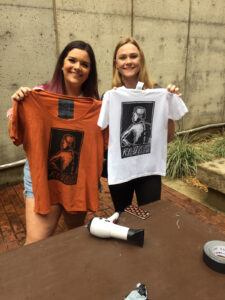 On March 2nd, the Museum of Fine Arts (MoFA) hosted its first Make it at MoFA event. Over one-hundred visitors came to the Museum to participate in hands-on activities related to the current exhibitions, Le Sang Noir and 68:18 Student Protest in Print.
Inspired by the prints created by Atelier Populaire in Paris 1968, visitors screen printed t-shirts designed by Elton Burgest (BFA 2018) and Marie Dull (BFA 2019). Elton guided participants through the printing process and helped pull shirts and posters.
Responding to Brandon Ballengée's Le Sang Noir, Debbi Gerardi (PhD candidate, FSU Art Education) designed an interactive station where visitors can make species of fish imperiled by the Deep Water Horizon oil spill. Participants cut out, colored in, and placed sea creatures within the seascape created by Debbi and fellow student Delaney Sandlin.
The Museum will be hosting more Make it at MoFA events in the future. Please check back for information about MoFA's exciting programming. All Museum events are free and open to the public.
Gallery photos courtesy of COCA. Inspired by the screen-printing in the "68:18 Student Protest in Print" exhibit, participants learned about the silkscreen process and got to pull their own prints during the "Make it at MoFA" event.