MoFA Presents "Memento Vitae"

We use flowers to mark both beginnings and endings. We give bouquets at graduations and send them to provide comfort during illness or recovery; we decorate with flowers on our wedding day, and heartfelt arrangements fill the room at funerals and memorials. In art, the cut rose can serve as a memento mori, a reminder of the inevitability of death, while a pink carnation can symbolize eternal love. In the proposition of these dualities, the reality of life is laid bare: there is no celebration without pain.
It is difficult to put the year 2020 into context at such a short distance. Once the hurt, stress, and fear subside, the remarkable triumphs of individuals to develop a vaccine, vote in record numbers, and protest systemic racism will undoubtedly influence how we consider the overwhelming loss, grief, and frustration that marked the year. Will we remember 2020 for what was begun or what was ended? While we wait to see, we offer Memento Vitae, a small selection of works that hold space for our grief and our joy as we continue on together.
This show was inspired by an exhibition concept proposed by Kailea Myrick, a graduate student in the Museum and Cultural Heritage Studies program.
Selected works from the exhibition:
Dennis Oppenheim, Flower Arrangement for Bruce Nauman
Dennis Oppenheim's Flower Arrangement for Bruce Nauman responds to a work that Bruce Nauman made in 1966. Nauman's Flour Arrangements consisted of seven photographs documenting a month-long project during which the artist shaped wheat flour into different forms on the floor of his studio. Oppenheim's homonym of Nauman's piece is a more conventional, yet no less clever derivation of the concept. Oppenheim's book presents a six-foot-long panorama of flowers in a forest. Close looking reveals that the composition consists of multiple images of the same setting with slight adjustments in the positions of the flowers. Each accordion fold lays a unique floral composition into the book's covers – an arrangement of subtly arranged arrangements.
Unknown Artist, Flowers
The tones achievable through the platinum printing process range from warm blacks to subtle browns to expanded mid-tone grays. Here, the photographer has captured a clutch of flowers growing in a garden. Although we cannot discern the colors, the shades of each leaf, stalk, and blossom are soft and delicate. Flowers are ephemeral. They do not last very long. The petals are already beginning to fall from these plants. Platinum prints, on the other hand, are among the most durable photographic mediums. The platinum group metals are very stable against the chemical reactions that can degrade a print. A platinum image, properly made, can last hundreds of years.
Betty Hahn, Mega Chart Origin 1
Betty Hahn has experimented with alternative photographic processes throughout her career, creating a body of work that centers on photography while challenging conventional ideas of the medium and incorporating a range of artistic technique including lithography, painting, and embroidery. Reflecting the spirit of these investigations, Mega Chart Origin 1, from the 1975 "Colors" portfolio produced here at Florida State University, deconstructs and reimagines the visual elements of scientific classification – texts, color-coded geneology lines, specimen photographs of a variety of orchids – as an idiosyncratic bouquet.
Kenneth Kerslake, Bouquet
"All art is autobiographical. It finds its source within the life of the artist; currents in the stream that spring from the ground at birth, continue through life and disappear from our consciousness at the end. The currents in the stream are the powerful forces of life that carry us along, through swift emotional currents, quiet eddies of peace and contemplation and unexpected tides that arise from seemingly mysterious sources at the edge between inner dream and outer reality and catch us unawares. It is this edge between the solid and the elusive, between the internal life of the spirit and the external coping with the world, where one is always on a transparent ground that interests me."  – Ken Kerslake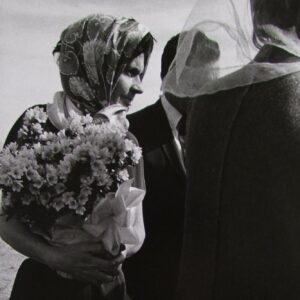 Larry Clark, Untitled (Woman with Flowers)
This photograph was taken when photographer and filmmaker Larry Clark was a self-described drug addict documenting through photography the lives of young people in Oklahoma, which culminated in his critically acclaimed book Tulsa. Clark challenged the notion of a wholesome American West steeped in "family values," with scenes of young people having sex, shooting up drugs, and playing with guns. Clark has said that he "didn't take these photographs as a voyeur, but as a participant in the phenomenon." Although there are no drugs or guns in this photograph, their impact is evident. The woman, her head reverentially wrapped in a kerchief, stands on a grassy lawn alongside two figures dressed in dark suits.  She cradles a flower bouquet in her arms.
André Kertész, Flowers for Elizabeth
"I write with light," Andra Kertesz once said of his work. In this intimate picture from the portfolio André Kertész / Still Life, the artist pens a love note to his wife, Elizbeth Saly, whose reclining figure is visible in the prints of Kertész's photographs on the chair. A single bouquet is not enough to express his affection. Beginning in 1978,  Kertész shifted from traditional film to Polaroid to create a major series that combined still life with views from his apartment windows to pay homage to Elizabeth, who had died in 1977.