Madison's Top 5 Art Podcasts
Written by Madison Hayes
Despite businesses and cultural institutions slowly beginning to reopen, there is still an emphasis on maintaining minimal in-person contact. As we navigate this remote learning environment, a podcast can be a necessary escape in-between Zoom calls, submitting course assignments, or long shifts at work. Below are five of my favorite art-centered podcasts to educate and entertain yourself.
The Great Women Artists Podcast, presenting new episodes every Wednesday, is a great way to be exposed to and learn about amazing artists. The podcast celebrates female artists with host Katy Hessel, a historian and art curator, as she interviews artists, curators, and writers about their careers.
For anyone with limited free time, this podcast is for you. With every episode only being 14 minutes long, this 30-episode podcast series produced by the Museum of Modern Art focuses on well-known pieces in the museum's collection and features guest speakers.
As an avid TedTalk listener, this podcast is a must to subscribe to. With each episode being less than 20 minutes, this is another excellent short podcast to have on hand for those brief periods of free time between Zooms. The podcast has speakers from all over the world coming to speak about their work and visions through the lens of art, design, photography, and architecture.
Host, Tamar Avishai, begins her podcast by interviewing museum visitors about an artwork. She allows them to share their analysis with the listeners, demonstrating new perspectives. She then proceeds by delving into the piece's background and incorporating information about the object, the social context, and so much more! I recommend this to all art lovers.
This podcast presents its viewers with international art news. The host, Ben Luke, brings in guest speakers to discuss the breaking stories, events, new developments, and trends.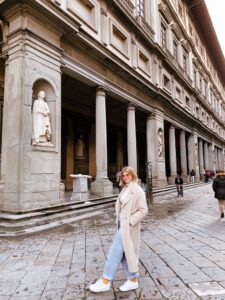 Madison Hayes is a Studio Art and Art History major with a Museum Studies minor. She is set to graduate in Fall 2021 from Florida State University. She is currently completing a remote internship at MoFA after participating in an internship at the Galleria Degli Uffizi during the Spring 2020 semester as COVID-19 broke out. After graduating, Madison plans on continuing her education in the Museum Studies field.