Fall 2020 BFA Thesis Exhibition

Every semester students graduating with a Bachelor of Fine Arts degree from the Department of Art showcase their thesis projects in the Museum of Fine Arts. These students have worked for years to develop the technical skills that enable them to explore ideas and concepts as part of their own artistic practice. Working closely with faculty mentors from the Department of Art, these students have developed these projects over the past year, and they illustrate the range of processes and concepts that engage emerging artists.
—————————————————————————————————————————————-
Natalie Cevallos's paintings investigate unrealistic beauty standards, unattainable body image, and elite lifestyle choices. In a social media heavy society, Cevallos explores self-concept and identity while alluding to the subcurrent of toxic culture.  By exploring themes of beauty, gender norms, sensuality; she employs bright, appetizing colors sourced from advertising and their desire to sell and consume body image. In this series, she explores the qualities that accompany the "successful" Instagram feed, for and by women. These paintings reflect her relationship with her own body image and the effects resulting from nearly a lifetime of online influence and indulgence. These compositions serve as a metaphor for the destruction of the female psyche as they are simultaneously being enticed into their own consumption.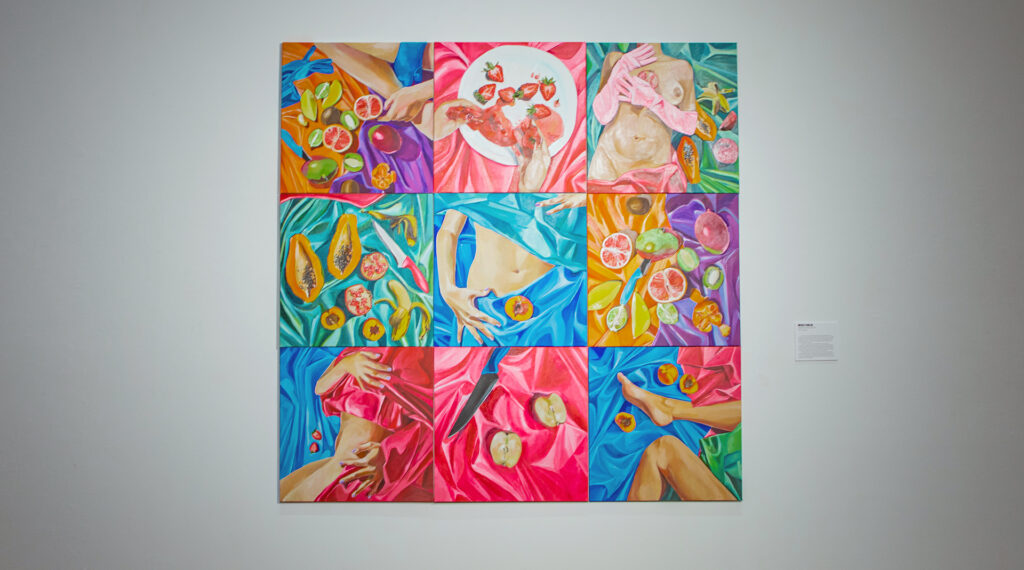 Eli Goldstone's work examines objecthood and gesture to determine what differentiates humans from tools through a series of contradictions. The work is theatrical, and engages the viewer through humor and hyperbolic situations. The theories of art in the everyday and object autonomy connect his body of work as a whole. His performances overcomplicate each task, emphasizing the gestural uses and autonomous behaviors of everyday objects being used. Through performative gestures, the re-contextualization of these objects he disassembles, repairs, rearranges, crawls and interrupts the object and space. The process is usually documented as a video, and is later installed within the object. The object is an artifact, while the video is a record of human influence. Each piece guides the viewer to perceive these objects as extensions of the body and human gesture. As a result, the ways in which viewers are taught to do things are examined. The process of re-contextualizing is ultimately used to question education and the act of teaching.
https://vimeo.com/mofafsu/review/478068630/ef36d08713
Yadriel Hernandez Allende (b. San Juan, PR) is a multi-media artist and researcher currently residing in the United States. Their childhood in the commonwealth of Puerto Rico– and subsequent displacement to the States­– sparked an interest in Caribbean identity theory. Motifs first established by Spanish-colonial agricultural, architectural, and military efforts, artists in the late nineteenth-and early twentieth-centuries transformed the Caribbean picturesque to profit from lack of interest in the island's populace outside of capital gain. As a continuation of these traditions, their image alterations and collages transform archival imagery and family photographs. Noting differences in the display and contents of works in art institutions depending on their location lead them to apply methodology seen in visual sociology when presenting works.
Through the performed embodiment of lola clay, showgirl, sublime subject/object, star of their own one-woman show Hannah Kae explores the severed qualities of allure and abjection as they pertain to the societally constructed ideals of gender and sexuality. With colorful, camped up installations and performances the artist focuses on the particular feminist curiosity aroused by spectacular images of the female body, generating curiosity as a figure for feminist desire to think about the fetishized female body, gender, and performance. They explore the slippages and discrepancies that occur from the relationship between the expectations placed on the female body and their non-binary identity, highlighting recurring patterns and shared experiences of trauma enacted on female bodies.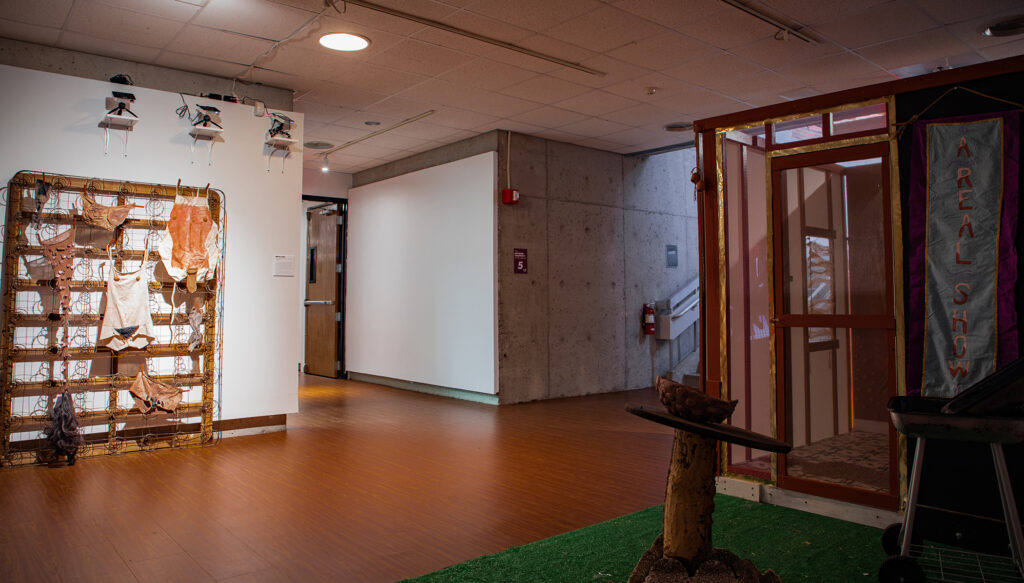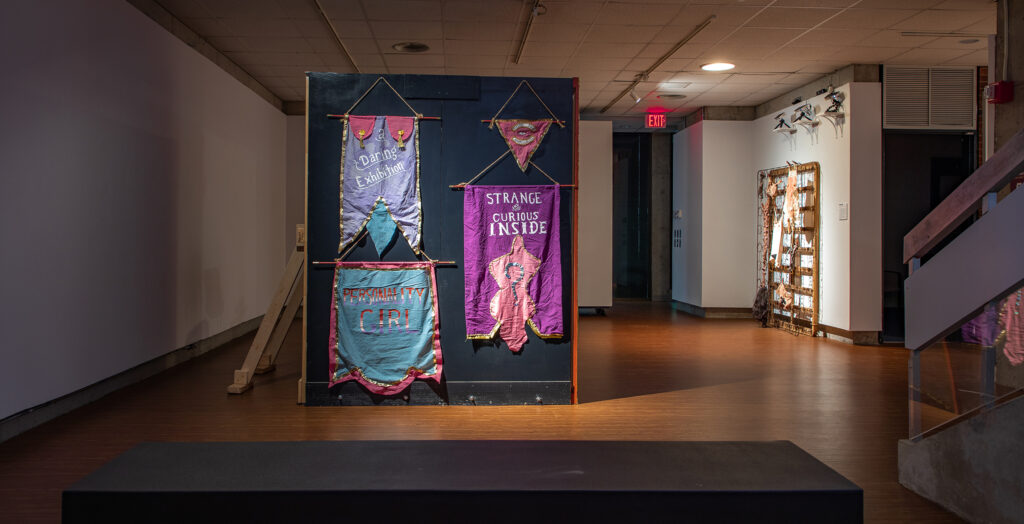 Through the use of text-based practices, Ariel Raskin makes work representative of memories that make her feel vulnerable. She discloses her most secretive hopes, fears, struggles and desires to form an intimate connection with the audience. An emotional bond is created with her text "as viewers discover something they should not know about a stranger, and feel as if they were trusted with sensitive information." Her work confesses realizations to an audience going about their daily routine by letting them act as voyeurs. By exposing her innermost thoughts, Ariel asks her audience to consider their own vulnerabilities. Confessing these emotions is a form of catharsis for Ariel as she desires to cultivate vulnerability between strangers.


Through the combining of creature puppets, film, makeup, and designed environments, Diana Robertson creates stylistically distinct atmospheres that elevate the suspension of disbelief that comes with the use of puppets. Robertson uses these creature puppets to discuss themes of mental health. While the creature puppets are infused with modern materials (i.e. servo motors and 3D printed elements), they are constructed as hybridizations with traditional forms of puppets. Robertson's works reference early 20th century European films with German Expressionism and Soviet Montage being her primary influences.