Cut Frames, Captured Pixels: Found Footage Film & Video

January 12 – March 18, 2023
Found footage filmmaking is a practice involving reappropriating and remixing previously shot or created materials for new, innovative purposes. This new exhibition, curated by Dave Rodriguez, traces international trends and histories of found footage filmmaking over the past several decades.
Filmmakers working in this tradition utilize many different methods of transforming moving images—from physically manipulating motion-picture film to juxtaposing disparate content through clever editing to glitching digital video and video game software—to critically examine its original meaning, context, and cultural significance. Artists featured in this exhibition incorporate materials from a wide spectrum of sources including Hollywood films, reality television and sitcoms, news broadcasts, home movies, archival footage, immersive online worlds, and computer desktop displays. At the heart of all these works are questions that encourage deep analytical readings and challenge our collective ways of consuming and finding meaning in visual culture.
This exhibition will be divided into three phases – "Cinematic Surfaces", "Video and its Discontents", and "Expanding Screens" –  which will unfold between January and March 2023. Each phase will feature a unique slate of artists whose work reflects different kinds of source materials and different styles of creative practice.
Artists in the exhibition include: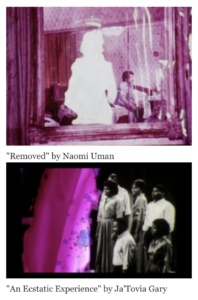 Peggy Ahwesh
Ximena Cuevas
Jennifer Dysart
Michael Fleming
Ja'Tovia Gary
Brett Kashmere
Kent Lambert
Mark Leckey
Kevin B. Lee
Jeanne Liotta
Jodie Mack
Jesse McLean
Evan Meaney
Raphael Montañez Ortiz
Akosua Adoma Owusu
Jennifer Proctor
Nicolas Provost
Michael Robinson
Phil Solomon
Peter Tscherkassky
Naomi Uman