2018 Faculty Art Exhibition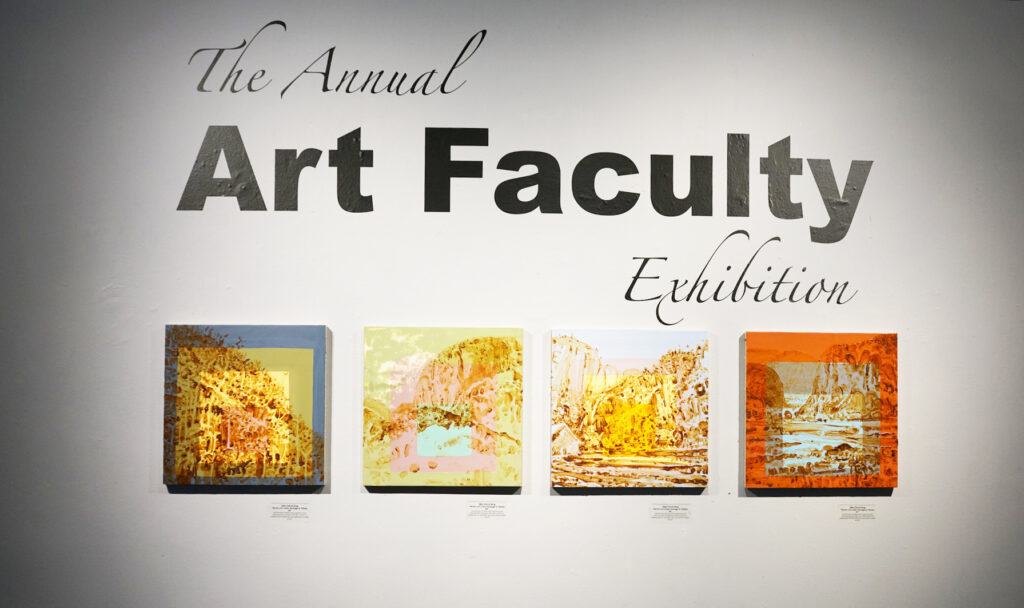 January 12-February 4, 2018
Museum of Fine Arts, Florida State University
---
The Museum of Fine Arts recently held an opening reception for the Annual Art Exhibition on January 12, 2018 at 5 PM. The artistic work of Florida State's College of Fine Arts faculty members helped to celebrate the spring semester and welcome in the new year. The works ranged from video projection to oil paint on canvas. This exhibit contains 66 pieces from over 35 artists: all faculty members of Florida State University.
Several of the works on display were done by Dr. Lillian Garcia-Roig, a Professor at Florida State University. Her Hecho con Cuba: Homage to Vinales collection alludes to Alber's Homage to the Square, while breaking the structural mode with her own stylistic choices. Garcia-Roig was inspired to create these pieces after visiting her native Cuba and drew inspiration from the Pinar Del Rio landscape. As Garcia-Roig is typically an on-site artist, she found it to be a challenge to paint Cuba after coming home. The result of her solution is Hecho con Cuba. The background of her images resembles the bright homes found in the farmlands of Pinar del Rio, while the landscape itself is physical dirt mixed with different bindings to create a unique texture yet hold the unique color of this sediment. By utilizing the same techniques as her on-site painting, Garcia-Roig uses a vernacular subject to embrace and subvert the modernist grid. Garcia Roig describes her painting:
I thought, maybe if I use the actual pigment, that is as close to a physical connection to Cuba I can acquire. This makes sense with who I am.
Another highlighted work in the exhibit is from the Sibling Rorschach Series, titled Conversations with Alice. Faculty member Carrie Ann Baade teamed up with her brother Lordscience Universal (David Jones) to create an intricate symmetrical painting, using acrylics, spray paint, and water soluble pencils and crayons. The brother and sister duo began working together as an experiment, and as a result have harmoniously created lively paintings that incorporate both of their unique strengths. Baade speaks on her work:
The painting is a dynamic puzzle, consisting of two adjoined panels that may be positioned in eight bifurcated variations.  Essentially, the work itself is about multiple possibilities that exists within the surreal potential of two creations.
These featured artists as well as their colleagues have created a unique collection, breaking the mold on traditional artwork and helping to further define postmodern art. The Annual Art Exhbition certainly set the stage for a wonderful semester and new year.