Artists' League Exhibition and Opportunity Announcements
Current Exhibition
Thru November 30 at The Top of the Capitol
The Way We See It
By the Artists' League of the FSU Museum of Fine Arts
With a new focus and new members, this year's Artists' League exhibit, on the dramatic 22nd Floor of the Florida Capitol, follows its previous exhibitions from 2003 and 2015. The exhibition will be viewed by Floridians and others who travel to Tallahassee for business and as tourists.
The Artists' League of the Florida State University Museum of Fine Arts (MoFA) is comprised of established and emerging artists from the region. With a wide diversity of media represented, members are fine artists, fine craftsmen, and patrons. Their work may be found in galleries, museums, art spaces, and exhibitions around the country. The Way We See It! includes 65 pieces by 35 League artists.
The Artists' League is a special membership of the FSU MoFA which is the largest academic art museum in the Big Bend. It is accredited by the American Alliance of Museums.
We very much appreciate the leadership of former Museum Director Dr. Allys Palladino-Craig who retired at the end of August this year and League Liaison, Dr. Viki Thompson Wylder, who will leave in December 2018. The Museum and the League have often worked closely in support of each other and we extend our best wishes to them on their respective retirements. We welcome the new Museum Director, Dr. Preston McLane, and Gallery Director Meredith Lynn.
Artists' League meetings are held once a month on First Tuesdays at the museum. Each summer, the FSU MoFA hosts a juried exhibition by the League membership and 2019 will represent the League's 33rd exhibition there.
– Terrie Corbett
This "top-of-the-Capitol" show is the third such exhibition coordinated for the FSU MoFA Artists' League by long-time member Terrie Corbett in coordination with the Division of Cultural Affairs.  The League wishes to express much gratitude to Terrie.  Coordinating an exhibition of this kind takes several years to develop and implement.  As an artist, she herself works in multiple media, kiln-fired glass, encaustic, and enamel.  She is represented by Signature Gallery in Tallahassee, FL and Kittrell/Riffkind Art Glass in Dallas, Texas.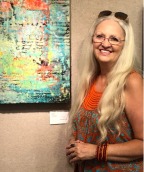 The Artists' League holds an Annual Summer exhibition at MoFA as well as other exhibitions in Tallahassee and surrounding communities. To download copies of announcements and prospectuses click on the links below.
Upcoming Events:
Call To Artist for the Summer Annual
Professional Development Award
 Professional Development Award Application
The Way We See It
Workshop
TBD
Current calls to artists and opportunities:
Arts and Antiques Fair: click here for application
Due date to apply: deadline, October 2, 2018