The Valuable Work Behind-the-Scenes at a Museum
Written by Catherine Alameddin
In this unprecedented time of COVID-19, people are spending more time at home and away from the many places they would normally frequent like a museum.  Many museums are closed to the public and looking for ways to connect with the public digitally and remotely.  As a result, we see museums utilize social media to reach out to the public and engage an eager audience.  MoFA is no exception and in the spirit of unique and creative engagement, I thought I might use my blogpost as an opportunity to speak to the public about a part of the museum that is usually behind the scenes. Many museums have a permanent collection of objects which they care for and the collections management departments and registrars are the custodians for this care (in different capacities depending on the size of the museum).  Collections management is the unseen work which may seem less glamorous to others, but they are doing an equally vital job for the museum.  In order to demonstrate the importance of collections work, I wanted to share my masters thesis project, completed in 2019 for my MSc Museum Studies (History of Collecting and Collections) program at the University of Glasgow.
For my project, I created a procedure that would be followed by future museum staff and volunteers to carry out regular audits of the museum's collections in non-museum buildings.  As with MoFA, this museum was associated with a university and loaned out a number of art pieces (primarily paintings and busts) to other university departments for decoration.  The museum wanted to have a procedure to follow to be able to carry out a comprehensive audit of these objects.  The audit had to tell the museum about where these objects were, in what condition they were in, and who at the university department was in charge of the object. You might find it surprising that museum objects frequently move without the approval of the museum! If an object is placed in a specific spot, it should not be moved to another wall, for example, but this does happen.  This is concerning for any museum because objects need to have a specific environment to ensure that they do not degrade more quickly than necessary, and so if the object is placed somewhere specific for display, it should not be moved from that spot.  In addition, the condition of the object is extremely important since the museum wants to know if any damage has occurred to the piece which might require fixing or mitigating in some way.  For this second part, I had many meetings with the Conservation Manager of the museum to understand what different damage looked like and what was needed for the condition reports (forms to fill out to explain the condition).  Finally, the museum wanted to have a contact with the university department so that they could have a responsible party who would be around the object daily whereas the museum staff are unable to visit the objects on a regular basis.
This project was so important because the museum had had some issues with objects being damaged (sometimes vandalism, sometimes accidental or through natural disaster) and so they wanted to have a mechanism in place to be able to keep an eye on these pieces.  Though the work that I did may not have seemed as exciting as other work in a museum, it was so satisfying.  After my work with the collections, I could see that my project would be valuable and long lasting for the museum.  I was able to note that their database was inaccurate with some items being listed as in one location when they were somewhere else.  It is so important for the objects to be well cared for so that the public can continue to enjoy them and learn from them.
This project also brought up an important decision that museums must make: whether to allow the public to access the objects or to protect and preserve the objects for the future.  Of course, there are many arguments on both sides, and allowing access does not have to mean damage to the objects!  The museum chose to display some of their collection in open, unguarded areas and without proper arrangements, which can lead to damage.  One major problem was that the museum did not have protective glass on objects that benefit from it and they also did not have these works hung high enough, i.e. out of reach of ill-intentioned university students.  This is the sort of problem that is easily fixed and thus can enable the museum to both provide access to a wider selection of their collection but also guarantee the objects' safety.
Museum staff also ensure the safety of objects and themselves through using the same personal protective equipment (PPE) that is very much in need by healthcare workers right now to safely fight COVID-19.  Museum staff such as conservators and collections management staff use PPE such as face masks and gloves to create a barrier between themselves and some museum objects which could be harmful.  Sometimes objects contain hazardous materials like mercury or arsenic because these substances were frequently used in the past before we fully understood their health risks.  PPE ensures that staff working with these objects do not interact with these dangerous substances.  PPE also protects the objects from us and harm like the oil from our skin which can damage objects.  All over the United States, museums, libraries, and archives have been donating their personal protective equipment to hospitals to help in the fight against COVID-19.
In museums all over the world, there are many people that you may never see who are keeping museums going.  These people are not only working hard for the collections, but also helping those healthcare workers who are working hard for all of us now.  I hope that I have been able to elucidate some of that work.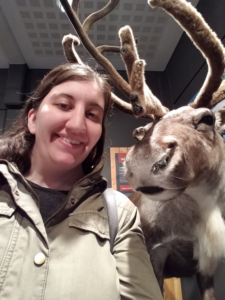 Catherine is a second year Masters student in the Classics department.  In addition to this degree, she has already completed a Masters program in Museum Studies from the University of Glasgow.  When asked about her interests, she says, "In the Classics field, I love the Romans and Etruscans, including their history, culture, and especially their jewelry.  I am writing my Masters paper here at FSU on the reception of Etruscan inspired jewelry in the 19th century.  In the museum sector, I am interested in collections management and registrar work.  I love the objects and hope to be able to continue to work with exciting collections.  Outside of my passion for the ancient world and museums, I love traveling and have visited many places in Europe, reading a good book, and trying new restaurants."
Picture: Seen in a reindeer museum in Iceland taking a selfie with one of the museum objects. (there was a sign instructing you to do this!)