Frances Gallardo and the Exploration of Hurricanes
Written by Taylor Guy and Mia Gonzalez
On January 16, Florida State University's MoFA presented their latest exhibition Rising Water, which explored creative responses by artists who were directly impacted by hurricanes. These natural disasters unite communities making them more resilient and empathetic during times of devastation. Frances Gallardo responds to the issue of place through her experiences of being born and raised in Puerto Rico, an island which is frequently hit with strong hurricanes. While Gallardo works in a variety of mediums, the pieces she has provided for the exhibition paper cut and embroidery pieces. In her Hurricane Series, Gallardo uses material such as paper and thread to explore the natural life and death cycles of hurricanes and how the Caribbean, while historically vulnerable to these storms, offers a different perspective.
The Taíno culture in Puerto Rico knew of Juracán, the violent goddess of winds who was accompanied by twin males, Guatauba and Coatrisque. Combined, wind, thunder and flood, created the most dangerous of storms: hurricanes. Despite their destructive nature, Gallardo was taught to find the balance and beauty in this natural cycle. Hurricanes are not solely meant to destruct and disrupt, but they serve to maintain global heat balance and replenish inland plant life. During her artist lecture, she stated that hurricanes do not only bring destruction, but can bring good things as well.  She described the falling of dead trees, the needed rain, and even the beauty of watching a storm as a child with her parents.
In pieces like Luis, Gabriel, and Carmela, Gallardo delicately cuts designs and patterns into paper, which is layered on top of each other in shapes of satellite images of hurricanes, often sourced from the National Oceanic and Atmospheric Administration. She then names each work after friends and loved ones.  She has chosen include the pencil marks made when designing the patterns and stated that by doing this, she was not trying to make the piece perfect because hurricanes are not perfect, but they can be beautiful. There is a dichotomy between the presentation of Frances' intricate interpretation of these satellite images and the reality of these catastrophic forces. The delicate media, paper, juxtaposes the powerful and strong character of hurricanes, while the unpredictable, chunky, cut-out patterns and layers create a sense of chaos and complexity representing the storm's unforeseeable movement.
When asked why she preferred to use paper, or what inspired her to use this media for these projects, Gallardo said it was partly due to her new apartment in New York, which worked as a much smaller studio than what she was used to, and the material was much easier to obtain in her new location. Additionally, these images create a sense of nostalgia from distance. Frances moved from Puerto Rico to New York to pursue her education in studio art at Cornell University. Frances captures the fragility of the houses of Puerto Rico through the use of paper and the patterns are reminiscent of the architecture and design unique to the island. However, she has always been fascinated by paper as a medium after her exposure to it at La Casa Del Libro Museum in Puerto Rico, in which she was exposed to its beauty and delicacy.
In her series, The Unnamed, Frances embroiders the paths of hurricanes from the 1800's to the present on cloth, specifically mapping hurricanes that were not given names. While this series gives storms that were unnamed a place in history, it also poses the question of why we choose to name Hurricanes and the history of the convention. Naming these storms humanizes their powerful, destructive nature, creating a sense of fear as we track their movements anxiously. Moreover, the act of stitching the embroidery is violent in itself as she continuously punctures the surface, even creating tears on areas where the hurricane's path overlaps others.
Gallardo's piece Murmuration (Mosquito Cloud) was met with a high level of visitor engagement. Created in 2017, the work is made of hundreds of mosquito shaped paper pieces placed in a swirling circular shape. From a distance the viewer gets the impression that they are looking at a swirling cloud of insects, but when they move closer, it becomes visible that the work is comprised of gestural representations of mosquitos.  Gallardo stated that in this piece she wanted to capture the movement of the bugs, and along with the shadows that are produced when the piece is on display, the design of the paper cut shapes accomplishes that.
From the materials themselves to the final presentation, Frances' large-scale, intricate works serve as a reminder of the reality that climate change and hurricanes continue to pose on vulnerable regions. Through various archived weather data, Frances translates the impact, but focuses on the sense of community and beauty in her installations and textiles.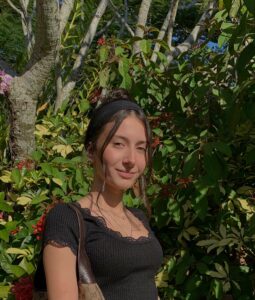 Taylor Guy (left) is an Art History major with a previously earned Bachelor's in Business Management and a minor in Art History graduating from Florida State in May of 2020.  She volunteers at the Museum of Florida History and is most interested in classical Renaissance art and architecture with ambitions of working in a fine arts museum or gallery.
Mia Gonzalez (right) is a sophomore Finance major and Museum Studies minor graduating from Florida State University in Spring of 2022. She is a member of the Phi Eta Sigma National Honors Society and an intern at FSU MoFA. Mia is currently studying the Italian language and culture as she prepares to intern at Galleria Il Bisonte in Florence, Summer 2021.