Student-led Circus Concert
Join us Saturday, March 12th, from 1:00 p.m. to 3:00 p.m. for an electronic music concert composed by FSU students in MoFA's galleries. Sit and enjoy, or let the music guide you as you explore the exhibitions Jiha Moon: Chasing Spirits, Bruce Davidson: Love and Longing, or Trust & Transformation at the Circus: 75 Years of Flying High. This event is free and open to the public, and registration is not required—contact program coordinator Annie Booth (albooth@fsu.edu) with any questions ahead of the event.
Calling all clowns! On Thursday, March 10th at 6:00 PM EST, join us for Makeup with MoFA, an exciting twist on our maker's event format. Local hair artist Jordan Rae will lead a presentation sharing a brief history of circus makeup and guide participants through a simple clown look using products you could find at home or the local drugstore.
This event is free, virtual, and open to the public. We recommend having a white cream base paint or pale foundation, liquid black liner or black cream paint, and red lipstick or red cream paint on hand. Makeup applicators or paintbrushes will be helpful for application. Reach out to program coordinator Annie Booth at albooth@fsu.edu with any questions ahead of the event.
https://makeupwithmofa.eventbrite.com
As part of MoFA's Spring circus celebration, Trust & Transformation at the Circus: 75 Years of Flying High, we are proud to host the acclaimed costume designer Jenny Leigh Du Puis for a special evening focusing on her amazing work and research.
Jenny Leigh Du Puis is a Ph.D. Candidate in Apparel Design at Cornell University. She combines an extensive professional career as a circus and theatrical costume designer and technician with formal training in functional apparel design. Her research centers on the safety and function of attire worn for the extreme physical performance of circus arts. She uses mixed methods and design research practices to explore the history of circus costumes, investigating the clothing designed and worn for today's circus performances, and developing ways to improve training clothes for the circus artists of tomorrow.
Jenny Leigh's designs have been worn by performers with Cirque Us, Circus Smirkus, Circus Couture, Circus Culture, Circus Juventas, and Cirque du Soleil's KÀ, as well as the Las Vegas productions of Monty Python's Spamalot and Rock of Ages, and the 2007 touring production of Hairspray! The Musical. She has designed costumes and accessories for many philanthropic organizations and events, most recently including hundreds of fabric N95 mask covers for Cure 4 the Kids in Las Vegas and an ICU in Houston.
Please join us on Thursday, March 3rd at 6:00 PM EST. The talk will take place in Room 249, located to the right of the Museum's interior entrance. This event is free and open to the public, and registration is not required. Please reach out to program coordinator Annie Booth at albooth@fsu.edu with any questions.
The Circus is in town, and your tickets are reserved! The FSU Museum of Fine Arts is delighted to join in celebrating the 75th Anniversary of the Flying High Circus with a special exhibition and family fun day! Student performers will show off their skills throughout the day, and some very special guests will offer fearless frolics and phenomenal feats starting at 1:30 p.m. Learn the secrets of spectacular showstoppers and then strike a bow under MoFA's littlest big top. It is FREE and open to all!
Join us for an evening of fun and festivity as MoFA welcomes student performers, alumni, and friends from the FSU Circus to celebrate 75 years of Flying High at Florida State. Jaunty jugglers will jolt you. Dynamic dancers will delight you. And amazing acrobats will astound you. Learn the secrets of spectacular showstoppers and then strike a bow under MoFA's littlest big top. It is FREE and open to all!
Join us for a FAR & Away virtual lecture with virtual artists in residence Kei Ito and Andrew Keiper. The artists will be discussing their photographic, video and sound based collaboration work as well as a new project created in residence with FAR. A screening of their piece, New Light-Narrowcast, will be on display at FAR, 3216 Session Road, March 7th-11th.
Register for the event via the EventBrite for Zoom link:
https://www.eventbrite.com/e/far-away-virtual-lecture-kei-ito-and-andrew-keiper-tickets-255301643087
About the Artists:
Kei Ito is a visual artist working primarily with experimental photography and installation art who is currently teaching at the International Center of Photography (ICP) in NYC. Ito received his MFA from Maryland Institute College of Art in 2016. Ito's work addresses issues of deep intergenerational loss and connections as he explores the materiality and experimental processes of photography, visualizing the invisible: radiation, memory and life/death.
Ito's work, fundamentally rooted in the trauma and legacy passed down from his late grandfather – a survivor of the atomic bombing of Hiroshima, meditates on the complexity of his identity and heritage through examining the past and current threats of nuclear disaster and his present status as an US-immigrant. Many of Ito's artworks transformed both art and non-art spaces into temporal monuments that became platforms for the audience to explore social issues and the memorials dedicated to the losses suffered from the consequences of those issues.
Ito has participated in numerous Artist in Residence programs offered by the Studio at MASS MoCA, the Marva and John Warnock Biennial A-I-R, CPW, the Center for Fine Art Photography, and Creative Alliance. His works are included in the collection of the Museum of Contemporary Photography, Norton Museum of Art, Candela Collection, the Marva & John Warnock A-I-R Committee, En Foco, and California Institute of Integral Studies. His internationally recognized solo and group shows can be read in reviews and articles published by Washington Post, Hyperallergic, BmoreArt, ArtMaze Magazine, Washington City Paper and BBC Culture/Art.
Andrew Paul Keiper is an artist and educator based in Baltimore, Maryland where he teaches at the Maryland Institute College of Art in the Animation and Film & Video programs. Working in sound, image and installation, Andrew's work dances across the boundaries of sound art, experimental music and sound design.
Field recordings, drones, drumming and sound designed evocations of places remote in time and place commingle in Keiper's work, inviting the audience to listen in ways they may not be accustomed to listening. Much of Andrew's work contemplates the legacy of his grandfather's role in the creation of the atomic bomb, and the ramifications of atomic weaponry past and present. Andrew also maintains a practice as a sound designer for film, and as a musician and audio engineer.
Keiper received his BFA in painting from the Mason Gross School of the Arts in 2002. He has exhibited in nationally, including in Baltimore, New York City, Philadelphia, New Jersey and Washington DC. In 2016 and 2019 he was a Sondheim Prize semi-finalist, and in 2016 won a Rubys Artist Grant along with collaborator Kei Ito to produce a large scale project.
In January of 2018 Keiper and Ito presented their Rubys project, Afterimage Requiem at the Baltimore War Memorial. The exhibition received coverage by the Washington Post Magazine, the BBC, the Baltimore Sun and others. In 2016, they brought this work, along with others to the Southeastern Center for Contemporary Art in Winston-Salem, North Carolina, where they exhibited their first large-scale art museum exhibition, Archives Aflame.
The Native American and Indigenous Studies (NAIS) Planning Committee warmly invites you to a discussion about the future of NAIS at FSU, February 25, 11:00AM-12:00PM. Focused on what a NAIS Center would look like, what it would cover, and what you consider essential to such a center's mission, the meeting provides an opportunity for students, staff, faculty, and the wider community to share their thoughts on these important topics. This is a virtual meeting.
If you have any questions, please contact Robinson A. Herrera, Chair, NAIS Planning Committee at rherrera@fsu.edu
Registration Link:
https://fsu.zoom.us/webinar/register/WN_Qtr1oiyPT-KH0s_JIKfmfw
Make a pinch pot with FSU's Clay Club.
Thursday, January 20th
4:00 – 7:00 PM
At the FSU Museum of Fine Arts
Come create a clay pinch pot with us at the FSU Museum of Fine Arts! On day one (1/20), we'll provide all materials, and members of the FSU Clay Club will provide instructions, just bring yourself, a friend, and your creativity! MoFA's new exhibition Jiha Moon: Chasing Spirits will provide tons of ceramic inspiration. After the pottery is fired, we will have a "Grab-and-Go" night where you'll be able to pick up your dry creation and some fun crafts to decorate it! For those unable to make it to the first event, don't worry! We'll have some extra fired pots for you to pick up and paint as well!
Let me know if you need any additional information! Many thanks.
Florida State University's Facility for Arts Research and Museum of Fine Arts is excited to welcome Jiha Moon for an opening reception on February 17th at 5pm in MoFA's galleries and a presentation of her work at 6pm in room 249. This event will be free, open to the public, and in-person, with the option to view it remotely.
A show of her ceramic work, Jiha Moon: Chasing Spirits, will be on view at the Museum of Fine Arts from January 13th until March 19th.
Jiha Moon is from DaeGu, Korea, and lives and works in Atlanta, GA. She received her MFA from the University of Iowa, Iowa City. Moon's gestural paintings, mixed media, ceramic sculpture, and installation explore fluid identities and the global movement of people and their cultures. She says, "I am a cartographer of cultures and an icon maker in my lucid worlds." She is taking cues from wide ranges of history of Eastern and Western art, colors and designs from popular culture, Korean temple paintings and folk art, internet emoticons and icons, fruit stickers and labels of products from all over the place. She often teases and changes these lexicons so that they are hard to identify yet familiar.
THIS PRESENTATION AND EXHIBITION IS FUNDED, IN PART, BY A GRANT FROM SOUTH ARTS IN PARTNERSHIP WITH THE NATIONAL ENDOWMENT FOR THE ARTS AND THE FLORIDA DIVISION OF CULTURAL AFFAIRS.
Register here for the Zoom link: https://www.eventbrite.com/e/far-away-fsu-museum-of-fine-arts-an-evening-with-jiha-moon-tickets-244632712027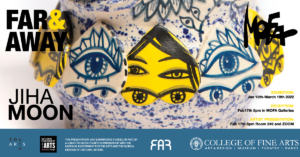 Combining American pop culture and traditional Korean iconography, Jiha Moon's ceramics explore issues of global identities and the construction of personal narratives. Utilizing humor and repeated icons and motifs, Moon builds her own rich visual language. Many of the symbols in her work speak to the complex identities Moon navigates as a Korean-born, Atlanta-based artist. In Korean culture, peaches are considered ghost-repelling symbols of vitality and immortality, while in the United States, they are emblematic of Moon's home state of Georgia. The fortune cookie, which has become synonymous with Chinese American restaurants, can be traced to Japanese bakeries in Los Angeles and San Francisco. Moon also repeats the banana throughout her work – a reference to Andy Warhol's iconic Velvet Underground album cover and a derogatory term experienced by some second-generation Asian Americans. Understood as "yellow on the outside, white on the inside," Moon calls out this harmful trivialization of rich and complex identities in her work. Moon's ceramics take on particular potency now, as an increase in anti-Asian hate crimes has given rise to a national conversation about the experiences of Asian American and Pacific Islander communities.
This exhibition was first organized by the Abroms-Engel Institute for the Visual Arts at the University of Alabama at Birmingham. Special thanks to Cristina Ruggieri and Laney Contemporary. This exhibition is funded, in part, by a grant from South Arts in partnership with the National Endowment for the Arts and the Florida Division of Arts and Culture.