Diving into MoFA's Permanent Collection
Written by Jacob MacDonald

The Museum of Fine Arts (MoFA) has a vast Permanent Collection comprised of close to 7,000 objects. As an accredited member of the American Alliance of Museums, MoFA is held to a high standard for maintaining its collection. Every three years, assistant director and collections manager Jean Young, must oversee a complete inventory of the Permanent Collection; it is extensive, to say the least. While not everything in the collection can be exhibited to the public each year, you can access the database on MoFA's website. The pieces within the collection are strategically utilized by MoFA, a teaching museum, to create community-oriented exhibitions and programming that increase community engagement within Tallahassee.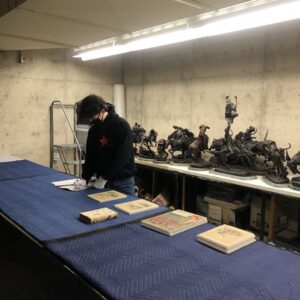 The online database is an available resource and can be utilized for research, education, or plain enjoyment. The works in MoFA's Permanent Collection range in variety, from old masters to contemporary art and a large range of media, including internationally acclaimed artists like Pablo Picasso and Salvador Dalí to retired Florida State University faculty like William Walmsley and Robert Fichter. Overall, MoFA's Permanent Collection contains many individual donations and purchases that greatly enrich the museum's capacity for meaningful educational programs, research, and exhibitions. Some of the collections I found most interesting were the Kirkpatrick Collection, comprised of 67 woodblock prints from Japanese artist Yoshida Hiroshi, the Jane and Neil Mooney Collection, made up of almost two hundred West African and Meso-American artifacts, and the Ball Collection, which contains paintings found among a destroyed artist's studio in Europe during WWII.
Over the course of the Spring semester, part of my internship duties have been working with the Permanent Collection, including database entry, inventory management, and art handling on a weekly basis. I entered keywords into the collections database to make it more searchable. I also spent much of my time helping Jean take inventory and confirmed the location of approximately three thousand works. This required me to verify that works in storage were still in their documented location and retained the same integrity as previously recorded.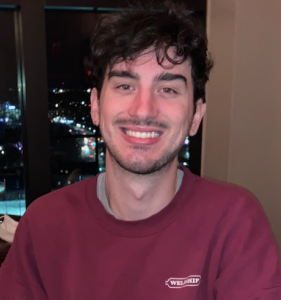 Jacob MacDonald is a Classical Civilization major at Florida State University and plans to graduate in Fall 2021. Interested in art history and management, Jacob interned at MoFA this semester and gained knowledge of several key components that keep a museum running behind the scenes. He plans to further assist with the Permanent Collection as a volunteer for this upcoming summer.