Books Are Disappearing, But We Can Help Stop It!
Written by Emelia Porcaro
As the world becomes increasingly virtual, it is easy to undervalue the power of touch and the physical interaction we have with our surrounding environments. Turning from our computer screens to our bookshelves can provide the much-needed tactile experience we lack from the usual external sources, a connection so many long for in this time of forced isolation. As art lovers, we recognize the importance of sharing a space with the work we are viewing. Books offer a snapshot in time. They are curated. They are lovingly assembled for the readers' pleasure and education, admitting the reader into a world of art and beauty. Though we are fortunate to have these online resources, our restriction from in-person exhibitions takes away this irreplaceable interaction between the art and the physical space. Our bookshelves house a wealth of knowledge. However, this knowledge is more commonly accessed by way of a website or an alternative virtual outlet. As a result, we continue to grow more removed from these beautiful forms of artistic expression. They become increasingly obsolete as they are pushed to sale racks. Books provide us with a tangible means of passing on information across generations, over-seas, among those we are closest to, or between strangers. We may discover hidden papers or notes in the margin. We may encounter artists left otherwise undiscovered or take part in revisiting great exhibitions or collections of the past. Books allow for a globally-shared experience in the comfort of our own homes. Below is a small selection of the art and design books that I feel display these dynamic and captivating qualities that we must strive to maintain in our lives. 
In my own experience, my love of books was nurtured by my mother. She never failed to fill our home with meaningful artwork and beautiful books. Encouraging her children to explore art from across the globe. She inspired creativity and curiosity, and without her, I would not be able to share my affection for art in this way. The books listed below come from her private collection and explore a wide range of artists and artistic cultures across time.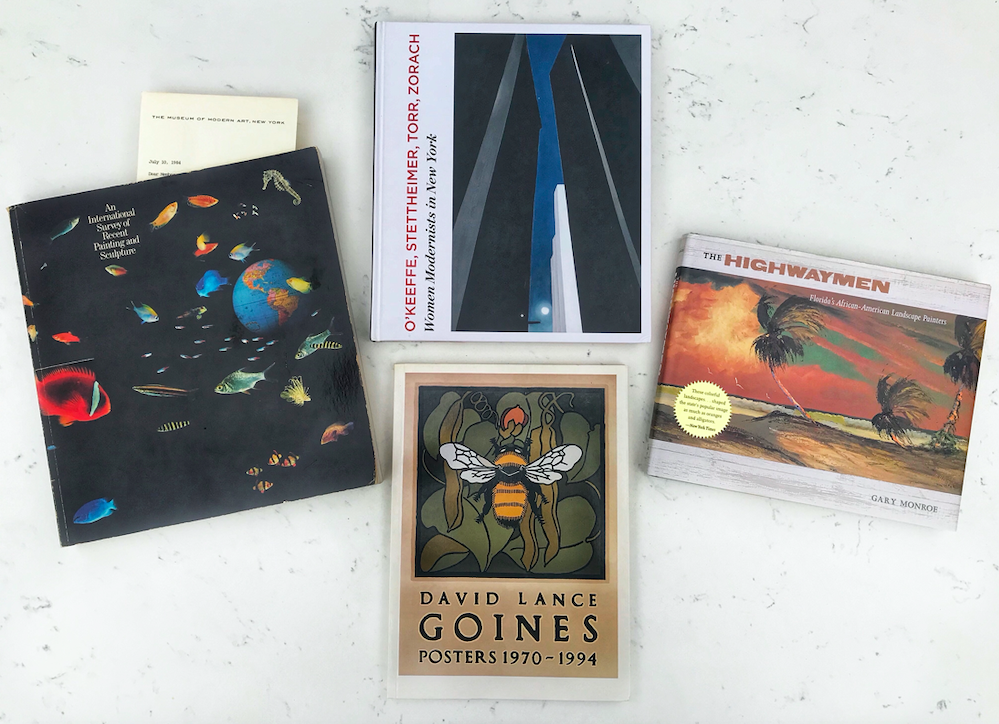 An International Survey of Recent Painting and Sculpture
By Kynaston McShine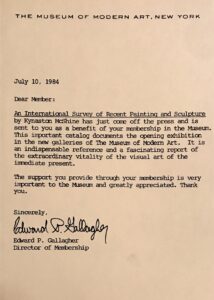 In 1984, the Museum of Modern Art celebrated the opening of a newly expanded exhibition space, created to diversify the museum's collections. An International Survey of Recent Painting and Sculpture highlights 195 works by 165 artists from 17 countries in an attempt to convey the importance of transcending international boundaries in pursuit of artistic creation. Additionally, this exhibition sought to correct the apparent imbalance in traditional exhibitions, which feature mainly American and European artists and "favor the true quality of others who may perhaps be equally or even more deserving of attention." The effective use of imagery throughout this book conveys this level of diverse work shown in the exhibition, including installation art, photography, and painting, to name only a few. This particular copy holds a transcription from a past Director of Membership at The Museum of Modern Art, Edward P. Gallagher, demonstrating how one's love for books is passed on throughout time. 
O'Keefe, Stettheimer, Torr, Zorach: Women Modernists in New York
By Ellen E. Roberts
My decision to include this book is inspired by my attendance atthe featured exhibition, O'Keefe, Stettheimer, Torr, Zorach: Women Modernists in New York, hosted by the Norton Museum of Art in 2016. This exhibition was the first of its kind to explore parallels between these four female artists and the manner in which they changed the trajectory of modernism in America. Spanning roughly sixty-five works, this book provides insight into the inspiration behind this exhibition, including a director's note and dedicated chapters pertaining to each artist. It highlights a selection of influential works by these artists while praising the female artist and encouraging the reader to further explore the art of the modernist painter. 
The Highwaymen: Florida's African-American Landscape Painters
By Gary Monroe
In an effort to highlight the work of local artists in this series of otherwise international publications, I have chosen this next recommendation. You may be familiar with the work of The Highwaymen. The Florida Highwaymen began as a group of over twenty-five young Black artists, whose paintings capture a dynamic and romanticized view of Florida's natural landscape. Since their emergence in the 1950s, The Highwaymen have not been given the attention they deserve. A selection of their 50,000 paintings is featured in this book. Author Gary Monroe shares his attempt at compiling an informative and impactful homage to these artists and their work. I encourage you to visit FSU's Museum of Fine Arts virtual exhibition New Landscapes to explore the works of a collective inspired by these individuals, The Wheelchair Highwaymen!
David Lance Goines: Posters 1970-1994
By Ten Speed Press
Out of my fascination for letterpress printing and offset lithography, I have included a publication on American artist David Lance Goines in my suggested reading list. A self-acclaimed graphic designer, writer, and printer, Goines provides a brief insight into his inspirations as an artist and his approaches to printmaking and design. He discusses his creative processes and his persuasion towards the printed image, arguing, "things that don't have to be perfect to look good, look good longer." This book highlights over one hundred of Goines' posters, printed between 1970 and 1984, as well as a full catalog of his posters from 1985 to 1994.

New Art Around the World
By Sam Hunter, Et al.
For the more ambitious reader, I would recommend New Art Around the World, a comprehensive survey on painting and sculpture in over twenty countries across South America, Asia, and Europe. This 323-page publication discusses the spread of contemporary art practices related to each featured country, among them, Brazil, Japan, Spain, Norway, and Belgium. With over fifteen authors, this book features more than 475 illustrations and calls upon the reader "to weigh opinions and to discover the common threads that run through the art of our time."
Miles Davis: The Collected Artwork
By Scott Gutterman
More commonly known as one of the most influential musicians of the twentieth century, many do not recognize Miles Davis as the wonderfully talented visual artist he was. Towards the end of his life, when he wasn't playing music, he often turned to drawing and painting as a means of creative expression. After quickly discovering his passion for the visual arts, he began his exploration of mixed media. Miles Davis: The Collected Artwork showcases the artist's oeuvre by highlighting his styles' evolution, from the fantastic to the abstract. Much of his work demonstrates his ability to capture the figure's dynamic and mesmerizing movements, ultimately expressing his belief that the arts offer a uniquely transporting experience. 
The Annenberg Collection: Masterpieces of Impressionism & Post-Impressionism
By Colin B. Bailey, Joseph J. Rishel, & Mark Rosenthal
Walter and Lee Annenberg owned one of the most extraordinary and valuable collections of Impressionist and Post-Impressionist art in history. Upon Walter's death, the collection was gifted to The Metropolitan Museum of Art in 2002. Comprising over 50 works, this collection includes paintings, drawings, and watercolors of artists such as Van Gogh, Matisse, Cézanne, and Gauguin. This book provides a more in-depth look at the Annenberg legacy and showcases their private collection through colorized images and insightful text. It is a must-read for anyone who enjoys the beauty and history of avant-garde artwork!
Vienna 1900: Art, Architecture & Design
By Kirk Varnedoe
The next recommendation is my personal favorite. This book details the history of Viennese culture through captivating and insightful prose as it relates to art, architecture, and design! Accompanying this text is the generous use of both colorized and black-and-white images that showcase the work of both popular and lesser-known artists who have participated in Vienna's most impactful exhibitions. I defy any art lover to spend just 10 minutes with this book without finding an artist or work that draws them in!
Tanasis Fappas
By Haris Livas
Tanasis Fappas was a Greek painter and illustrator who lived from 1922 to 2011, spending much of his life in Bucharest, Romania. Most often painting women and children, Fappas' use of vibrant color brings his portraits to life. Though there is limited access to information on Fappas – in fact, this book is written mostly in Romanian! – you will be drawn in by the beautiful prints that make up the majority of this book's pages. 
The Art Book
Phaidon Press
The Art Book is perhaps the most accessible publication for the individual who is just beginning their exploration of art. Each one of its 500 pages features a different artist, organized alphabetically, ranging from the antique to the modern. Each artist is provided a full-page, color image of a single work along with a concise description of the piece and of the artist. At the end of the book, you will find a "Glossary of technical terms," as well as a "Glossary of artistic movements," designed to aid the reader in understanding the text. The Art Book proudly "debunks art-historical classifications by throwing together brilliant examples of all periods, schools, visions, and techniques." It is here you could start, should you desire a brief yet insightful glance into the many facets of art history!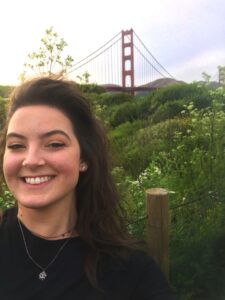 Emelia Porcaro is an Art History major and Museum Studies minor, who is set to graduate from Florida State University in Fall 2020. She is currently an intern at the Museum of Fine Arts and has previously interned at 621 Contemporary Art Gallery. Emelia's research interests center around the art and architecture of the Gothic period with ambitions to work in a fine arts museum or gallery.