Advice for Fellow Artists
Written by Bryson Wheeler

The Covid-19 pandemic has changed the landscape of pretty much everything. Life looks very different now, and there's no telling when this will change or what that change will look like. For the arts, more so than many areas, the pandemic has been incredibly difficult to deal with. The arts flourish when there is live collaboration and an audience to take it all in. Despite these difficulties, it's important to stay positive and prepared for when the next change comes about. Here are the three things I keep in mind to make it through challenging times.
Art can never be everything for an artist.
It's second nature for the artist to disproportionately place their happiness on art. After all, artists are known to dedicate all of their time and energy to art. In ideal situations, this can result in the creation of a masterpiece; however, it can lead to longing and unfulfillment. The pandemic is a reminder that your practice could be disrupted at any time and for whatever reason. As such, it is vital that the artist respects this dynamic and stays prepared mentally.
Exploration is important for an artist.
A break from creation, even when forced, shouldn't be the end of the world. As an artist, it is important to nourish all aspects of one's life. With art being such an emotional medium, one can learn many new ways to express themselves even when not practicing their discipline. New relationships, experiences, or viewpoints can drastically affect the creative process. Now that many of us have more time for personal endeavors, now is the time to nourish ourselves in all ways so that we will have new experiences to express. It is crucial to think of this period as an opportunity to grow rather than being forced to stay stagnant.
We're in this together.
When we think about how tough everything is, it is of utmost importance to remember that we are all in this together. There is a massive community of artists and art lovers who are dealing with the same struggles. This same community is rich in resources. There are plenty of people who are contributing to online classes or exhibits. Furthermore, there are plenty of people willing to help artists find a remote platform.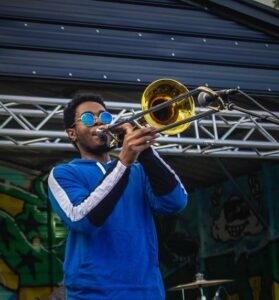 Bryson Wheeler is a current Arts Administration MA FSU student with a BM Jazz degree from Florida State University. Bryson had his introduction to the arts in grade school via his middle school band program. This experience was transformative and set the groundwork for him to pursue his future degrees. Bryson is now a MoFA intern with the hope to better understand all artistic disciplines and facilitate other people's access to the arts.