5 Movie Reviews to Cure Stay-at-Home-Blues
Written by Mallory Glaser
Due to everyone's current quarantine status, I felt that a ranking of all the art movies (fictional and biographical) that I have stress-watched in the past few weeks was a must. These are entirely my – an incredibly amateur film enthusiast's – opinions, but I can affirm that anyone and everyone will find either entertainment or information from at least one of these films!
5. Big Eyes (2014)
Directed by Tim Burton
Rated PG-13
This was entertaining! This biopic is based on the life of Margaret Keane, an artist whose work was claimed by her (at the time) husband and sold as his own. It is based on a true story with a satisfying ending. Also, Lana del Rey makes it on the film's score!
4. As Is by Nick Cave (2016)
Directed by Evan Falbaum
Rated PG-13
In this documentary you get to see behind the scenes into artist Nick Cave's creative process. He is joined by 100 community members to create multi-media performance over the course of eight months. My only qualm with the documentary is that we were not able to see the completed project; however, it is fairly easy to find images/clips online!
3. Cutie and the Boxer (2013)
Directed by Zachary Heinzerling
Rated R
I went into the film under the impression that this would be a heartwarming tale as a husband and wife reflect warmly on the past 40 years spent together, but I was wrong! This documentary candidly shows Noriko's (Cutie) reaction to 40 years of neglect from her painter and sculptor husband, Ushio Shinohara (the Boxer). One can feel the resentment in the air as the family struggles to get by on Ushio's art career, and it shows an honest portrayal of what life can be like in a creative environment. I appreciate the sincerity of this documentary, and I would recommend it!
2. Loving Vincent (2017)
Directed by Dorota Kobiela and Hugh Welchman
Rated PG-13
This film is as beautiful as can be! 125 artists hand painted every frame of this biographical animated feature in the style of Vincent van Gogh. It is impressive and heartbreaking, as it shows glimpses into the life and passing of the artist. This film blends the true story with a fictitious one to explain a likely theory behind the mystery of Van Gogh's death. This film was incredibly well crafted, and I would recommend it to anyone. Plus, Saoirse Ronan stars in this! What's not to love?
1. Portrait of a Lady on Fire (2019)
Directed by Céline Sciamma
Rated R
This film. Portrait of a Lady on Fire is a masterpiece. It is beautiful and remarkably heartbreaking, so be sure to have tissues on hand. I don't want to give anything away, so there is nothing else left to say other than: watch this film!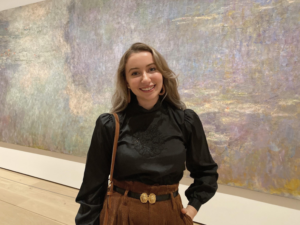 Mallory Glaser is an Advertising major and a Museum Studies minor, and she is set to graduate from Florida State University in Spring of 2021. She is currently an Intern at the Museum of Fine Arts, and has previously interned at 621 Contemporary Art Gallery. Next year she will be the Vice President of the Undergraduate Art History Association, so look out for her next year at their biweekly meetings and monthly events!