Spring 2016 Graduating Artists Exhibition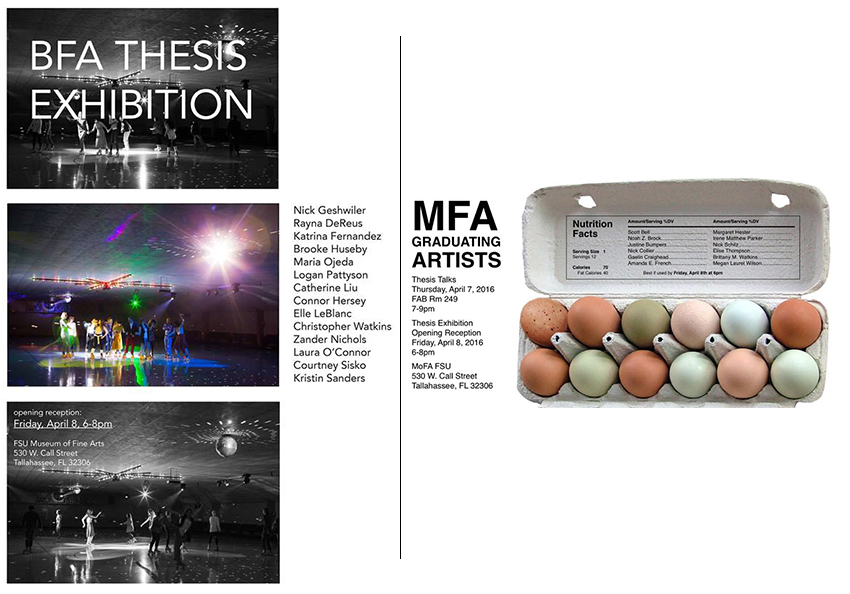 April 8 – 28, 2016
Please join the College of Fine Arts and the Department of Art on Friday, April 8th, 2016 from 6:00-8:00pm for the opening reception of the "Spring Graduating Artist Exhibition." 26 graduating BFA and MFA students will showcase their work in this exhibition, which will run from April 8th, 2016 through April 28th, 2016 at the Museum of Fine Arts.
Scott Bell
Noah Z Brock
Justine Bumpers
Nick Collier
Gaelin Craighead
Amanda French
Margaret Hester
Irene Matthew Parker
Nick Schilz
Elise Thompson
Brittany M Watkins
Megan Wilson
Nick Geshwiler
Rayna DeReus
Katrina Fernandez
Brooke Huseby
Maria Ojeda
Logan Pattyson
Catherine Liu
Connor Hersey
Elle LeBlanc
Christopher Watkins
Zander Nichols
Laura O'Connor
Courtney Sisko
Kristin Sanders
Don't miss the diverse wealth of talent from the newest  graduates of Florida State University.
The MoFA is open Mon-Fri 9:00am-4:00pm, and Sat & Sun 1:00-4:00pm.
Admission is FREE and open to the public!