MoFA Presents New Exhibition: "The Dahl, Lottie & William Lee Pryor Drawing Room"
February 12 – March 27, 2016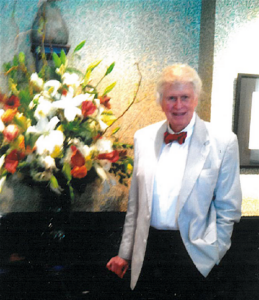 To honor his parents and to create a legacy of art he had collected throughout his life, William Daniel Lee Pryor bequeathed to the University a collection of 40 artworks including two Russian icons and an antique Chinese cabinet. Dr. Pryor admired finely painted portraits and landscapes, and he also had a taste for satirical prints including the eight stages of William Hogarth's eighteenth-century A Rake's Progress. These pieces are among the selection from his gift of art currently on display at the Museum of Fine Arts in the "drawing room"—an idea for installation that Dr. Pryor envisioned.
Dr. Lee Pryor (1926-2015) was a humanities educator who died in Houston in 2015, at the age of 88; he was born in 1926, the only child of Dahl and Lottie Mae Pryor of Lakeland, Florida. Dr. Pryor earned a BA degree from Florida Southern College, and an MA and a PhD from Florida State University. He also studied at the University of North Carolina.  In 1955 he accepted an academic position in Texas and became a full professor at the University of Houston, retiring in 1997 after 42 years of teaching English. Dr. Pryor wrote: "My commitment is to the humanities. I believe that the most important thing a teacher can do is to help a student stand on his/her own intellectual legs." As a major donor of academic scholarships to the College of Arts & Sciences at Florida State University, Dr. Pryor also hoped that his art collection would provide visual enrichment: the works will be available for study and enjoyment by university and community now and into the future.
Dates & Hours:  From February 12 through March 27, the exhibition and all events are free and open to the public. Monday-Thursday 9:00 am to 4:00 pm; Fridays 9:00 am to 8:00 pm. Friday March 4, 9:00 am to 9:00 pm. Saturdays and Sundays 1:00 pm to 5:00 pm. The museum will be closed Saturday, March 5, and Saturday, March 12.
* A Rake's Progress is a series of eight paintings by 18th-century English artist William Hogarth. The canvases were produced in 1732–33, then engraved and published in print form in 1734. The series shows the decline and fall of Tom Rakewell, the spendthrift son and heir of a rich merchant, who comes to London, wastes all his money on luxurious living, prostitution and gambling, and as a consequence is imprisoned in the Fleet Prison and ultimately Bethlem Hospital, or Bedlam. The original paintings are in the collection of Sir John Soane's Museum in London, where they are normally on display.