Glass & Fire- The Art of Enamel
17augAll Day23sepGlass & Fire- The Art of Enamel(All Day) Ongoing EventOngoing Event
Time

august 17, 2018 12:00am - september 23, 2018 11:59pm
Location

Museum of Fine Arts (MoFA)

530 W Call Street, Tallahassee, FL 323006-1140
Event Details

The Art of Glass and Fire highlights the ancient art form of enameling, or fusing ground glass to metal. The artists featured in the exhibition have all apprenticed under Kathleen Wilcox, a Tallahassee based artist who has over 40 years experience with enamels. Kathleen teaches classes and private lessons from her studio space and at workshops in various art centers throughout the country including Arrowmont School of Art and Crafts. Since 1986 Kathleen has been working as a studio artist producing a line of enamel jewelry and larger one-of-a-kind enamel wall pieces.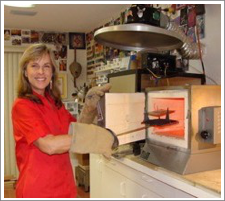 Kathleen's award-winning enamel work is exhibited and sold in national juried shows, art festivals, and in galleries. Her work is also published in the books The Art of Enameling and 500 Enameled Objects. Wilcox's enamels use recurring images of fish, birds, reptiles, insects, blossoms & plants. Intricate details lead the eye into the heart of the enamel. These images are personalized icons representing a reverence for the natural world. Her enamels celebrate the sense of wonder and renewal that she finds in natures gifts. This unique medium offers challenges both technically and artistically.
The art of enamel first captured Kathleen's interest in a college art class. This union of glass fused to metal can produce irresistible gemlike qualities, brilliant colors, depth in the glass and varied textures. She approaches the endless technique possibilities through methods of drawing, painting, printing, and collage. The first enamel Kathleen ever produced is included in this exhibition, titled Butterfly Wing from 1974.